FaithWords releases new Joel Osteen title this week:
"Peaceful on Purpose"
BESTSELLING AUTHOR AND LAKEWOOD CHURCH PASTOR JOEL OSTEEN OFFERS POWERFUL ADVICE ON HOW TO OVERCOME WORRY AND STRESS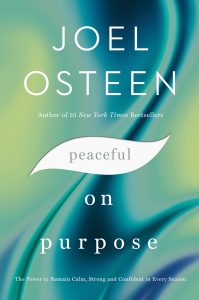 NASHVILLE, TN –New York Times bestselling author and Lakewood Church pastor Joel Osteen shares powerful advice on how to overcome worry and stress and invite peace into your life in his new book PEACEFUL ON PURPOSE (FaithWords, May 18, 2021, ISBN: 978-1-4555-3439-5).
The opposite of peace is worry and stress. Both are thieves that rob you of your sleep, joy, creativity, and good decisions. If you allow them into your mind, they can even keep you from your destiny. But if you learn how to change your automatic responses to these struggles and give your problems to God, He can go to work in your life.
If you're tired of living in tension and anxiety, then it's time to change. In Peaceful on Purpose, you will discover that you weren't designed to carry the heavy load yourself: step back to let God step in. Find peace so that you can stop worrying about your health, job, finances, or relationships. Life may be chaotic all around you, but you can live grounded in a calm spirit by drawing on scriptural examples and Joel's insightful personal experiences to find fulfillment. Learn how to give it to God so that He can exceed your expectations.
Joel Osteen is a New York Times bestselling author and the Senior Pastor of America's largest church, Lakewood Church in Houston, Texas. More than 10 million viewers watch his weekly inspirational messages through television, and over 60 million people connect with Joel through his digital platforms worldwide. Joel can be heard 24/7 on SiriusXM 128 – Joel Osteen Radio. Connect with Joel on Facebook, Twitter, and Instagram or visit his website at joelosteen.com.