FaithWords releases new book by Bishop T.D. Jakes on communicating effectively
BISHOP T. D. JAKES ENCOURAGES EVERYONE TO COMMUNICATE BOLDLY AND EFFECTIVELY IN HIS NEW BOOK: DON'T DROP THE MIC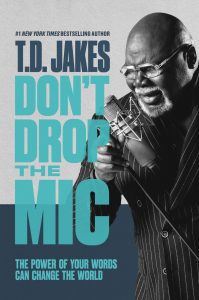 NASHVILLE, TN –Communication matters more now than ever before.  We use so many different platforms to reach our target audiences that even one misconstrued word or phrase can completely change the tone and meaning.
In DON'T DROP THE MIC (FaithWords, April 20, 2021, ISBN:9781455595358), Jakes, one of the world's most widely respected orators, wants to empower everyone to communicate effectively.
"Communication, no matter how eloquent or effusive it may be, is incomplete if understanding isn't achieved. Connecting with the recipient of your message is an essential element of successful communication because being understood is the ultimate objective. Words may be exchanged in a common language, but without understanding both the methods and manners, the message is usually incomplete." – T.D. Jakes, DON'T DROP THE MIC
Drawing lessons from his own life, Jakes gives career advice for those who have or want to grow into a speaking career, but he also provides clear direction and insight for everyone who gives presentations, writes emails, or talks to other people in their job or home life.
Jakes helps readers understand:
Why the way we speak and the words we use matter
How speaking well, no matter your topic or audience, improves your chances of getting the result you want
How to craft your message, whether it's a simple email or a speech under the spotlights, to connect with listeners
Why good communication is important for building connection and community
How sharing God's Word produces abundant fruit
DON'T DROP THE MIC is the guide we all need on how we can communicate more clearly, build community and share hope in our everyday lives. Whether you're interviewing for a new position, proposing a new business plan, auditioning for a performance, delivering a report for your committee, teaching Sunday school, or sharing your heart with a loved one, this book will help.
ABOUT THE AUTHOR
T. D. Jakes-one of the most inspirational, influential, and treasured spiritual leaders of our time-is the #1 New York Times bestselling author of more than forty books. He is the CEO of the towering TDJ Enterprises, spanning film, television, radio, publishing, podcasts, and an award-winning music label. He is a Grammy Award-winning music producer and his blockbuster films have achieved international success at the box office. His inspirational conferences (MegaFest, Woman Thou Art Loosed) continue to have a profound global impact. Bishop Jakes' is a master communicator whose trusted voice is heard in more than 80 million homes daily and across a vast worldwide audience via social media. He resides in Dallas, Texas.