FaithWords releases Joel Osteen's newest book
IN THESE TURBULANT TIMES, JOEL OSTEEN TEACHES HOW TO EMPTY OUT THE NEGATIVE, AND CREATE A LIFE FILLED WITH JOY AND PEACE!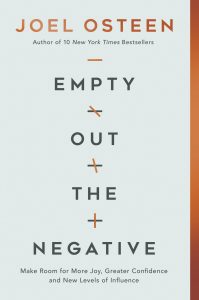 #1 New York Times bestselling author and the Senior Pastor of America's largest church, Lakewood Church in Houston, Texas, invites readers to let go of the negative and focus on the positive to make room for JOY in his new book, Empty Out the Negative: Make Room for More Joy, Greater Confidence, and New Levels of Influence (FaithWords/Hachette Book Group, November 10, 2020).  More than 10 million viewers watch his weekly inspirational messages through television, and over 60 million people connect with Joel through his digital platforms worldwide
We often go through life without even realizing all of the negative thoughts we have that are weighing us down until we feel paralyzed by Guilt…Resentment…Doubt…Worry. All can take their toll, mentally and physically. Once we allow these things in, they begin taking up all of the space for the good things that should belong there. Imagine your life is like a container. You were created to be filled with joy, peace, confidence, creativity. But if you allow worry, shame, and other negativity in, it pushes out good thoughts.
"The reason some people are not young and strong—I don't mean just young physically, but young in spirit, vibrant and passionate about life—is because they're filled with the negative. Worry will make you weak. Living stressed out will make you old, give you
Empty Out the Negative wrinkles, and take your passion. Being bitter, angry, and resentful will shorten your life.." —Joel Osteen, Empty Out the Negative
You control what you think about, what you choose to allow in. Every morning when you wake up, you need to empty out anything negative from the day before. Empty Out the Negative will help you disregard the ridiculing voices in your head and fill your spirit with positivity.