FaithWords releases "Be Joyful" 50-day guide by Joyce Meyer on May 11
Bestselling author Joyce Meyer draws upon the teachings of the apostle Paul to lead readers in the daily practice of joy-filled living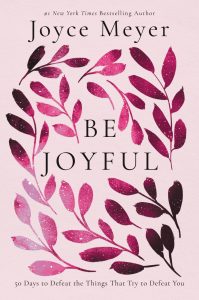 In this 50-day guide, Bestselling author Joyce Meyer draws upon the teachings of the apostle Paul to lead readers in the daily practice of joy-filled living.
Joy is not just a "happy feeling" based on our circumstances or on things we possess—it is an unshakable stability in our spirit that comes from the strength of the Lord.
The apostle Paul has been called the apostle of joy. In his letter to the Philippians—widely considered to be the most joyful book in all of scripture—Paul uses the Greek words for joy and rejoicing 13 times in only 11 verses! Paul talks about experiencing joy in all circumstances, even during times of struggle.
In this unique book, Joyce Meyer distills Paul's teaching on joy into 50 lessons that equip us to overcome the greatest challenges we face to a joyful life. Through daily readings, we are encouraged to embrace the truths God has given us that allow us to overcome the emotions, attitudes, and experiences that rob us of our joy. When we learn to Be Joyful in our journey, we begin to experience the wonderful, abundant life that the Lord has in store for us.
Joyce Meyer is a New York Times bestselling author and one of the world's leading Bible teachers. Through Joyce Meyer Ministries, she teaches practically and candidly, openly sharing her experiences and helping millions of people to apply biblical principles to their situations and ultimately find hope and restoration through Jesus Christ. Her book Battlefield of the Mind has been a perennial bestseller, teaching people how to win the war in their minds and "think about what they think about." Joyce holds conferences across the United States and around the world, and her Enjoying Everyday Life program is broadcast on TV, radio and online to millions in over 100 languages.
She has also authored over 135 books, which have been translated into over 160 combined languages. Joyce's passion to help hurting people is the foundation of Hand of Hope, the missions arm of Joyce Meyer Ministries, which provides humanitarian relief through its hundreds of global outreaches.