FaithWords announces third printing of Pastor
Robert Morris book "Beyond Blessed"—first book
in two-book deal
ROBERT MORRIS OFFERS BIBLICAL PRINCIPLES TO HELP ACHIEVE ABUNDANT LIVING IN HIS NEW BOOK BEYOND BLESSED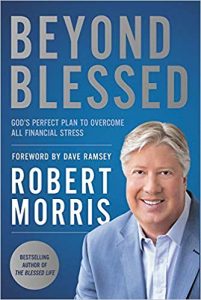 (NASHVILLE, TN) FaithWords, is in the third printing of BEYOND BLESSED: God's Perfect Plan for No Financial Stress (FaithWords, Jan. 8, 2019, ISBN: 9781546010098), by bestselling author of The Blessed Life, and lead senior pastor of Gateway Church in Dallas/Fort Worth, Pastor Robert Morris.  Take the Day Off, will be released in January 2020, it is the second book in a two-book deal with Morris.
"It's a privilege and an honor to publish this new book by Pastor Robert Morris," said Rolf Zettersten, publisher.  "BEYOND BLESSED is full of practical and inspirational insights to help people with the resources God has entrusted to them."
In the follow-up to the widely successful The Blessed Life, in Beyond Blessed Morris teaches readers the biblical principles to follow in order to reach their financial goals, give generously, and experience abundant living. Featuring a foreword by Dave Ramsey, Beyond Blessed teaches readers practical skills including budgeting, handling debt, and financial planning, but also communicates principles, precepts and patterns that will make readers sound, skillful handlers of all that God has entrusted to them.
Morris wrote Beyond Blessed to provide readers with the biblical principles that Christians need in order to effectively steward every area of their lives, resulting in God's favor and blessings. He writes that the ability to manage wealth and material possessions is not an innate talent possessed at birth, but rather a skill that can be taught and learned.