End Game Press authors final and place in 16 book contests
EGP's Inaugural Year Sees Many Wins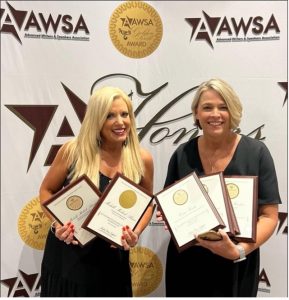 Memphis, TN. August 2022 – It's one thing for a publisher to release a steady stream of titles in its first year. But for nine authors to place and final in 16 different contests in the publishing industry? Almost unheard of. Enter End Game Press (EGP).
Founder and director of EGP, Victoria Duerstock is excited to see industry recognition for her authors and their work—from board books to adult nonfiction titles—they are all winning accolades.
The contests include: the prestigious Golden Scroll Book Awards, the Christian Market Book Awards, the Selahs, the Illumination Book Awards, the Firebird Book Awards, and the Independent Book Publishers Association Awards to name a few.
Michelle Medlock Adams, author of more than 100 books, placed and finaled in 13 different contests with her first EGP title, Dachshund Through The Snow. That picture book, which features a heartwarming story about a little dog with a big heart and fabulous illustrations from Ana Sebastian, has earned 10 first place awards, five second places, and two Book of the Year honors since its release less than a year ago.
"We are so pleased to see our first books continuing to win awards and recognition in the marketplace both for their design and content," Duerstock shared in a social media post. "Thank you for supporting us as we work to create beautiful books that will make an impact out into the marketplace."
EGP Award winners and nominees include Nancy I. Sanders (Bedtime with Mommy), Victoria Duerstock (Guard Your Heart, Revived & Renovated—with coauthor Paige Rien), Bethany Jett (Navigating Minefields—with coauthor Victoria Duerstock), Michelle Medlock Adams (Dachshund Through The Snow), Caris Snider (Anxiety Elephants for Tweens), Josie Siler (Howie's Broken Hee-Haw), Melanie Redd (Just Rest), and Lisa Lorraine Baker (Someplace to Be Somebody).

End Game Press continues to work hard to produce beautiful, meaningful books. By the end of 2023, EGP will have 45 books in the marketplace. Duerstock is hopeful that all future titles will also win awards, but more than anything, she is determined to publish books that make a great, positive impact in the world today.
Media Contact:  Kayla Duerstock, PR@endgamepress.com
---
Suggested Interview Questions for Victoria Duerstock, Founder and Director of End Game Press:
How surprised were you that so many End Game titles received so many awards and nominations?
What is it about End Game Press books that make the publishing house really stand out in the marketplace?
What is the value of entering contests in the publishing industry?
What books are you releasing soon that you anticipate could also potentially accrue industry recognition?
Are contests an important strategy for End Game Press?
What do you hope these contests will communicate to readers and potential buyers about End Game?