Emily Ley's new book is a reminder to practice finding
grace in today's world
Founder and entrepreneur of successful lifestyle and organizational brand, Simplified® by Emily Ley, releases "Grace, Not Perfection for Young Readers"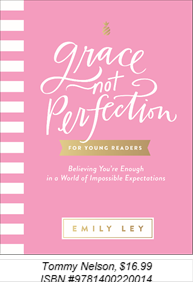 NASHVILLE, Tenn. (July 16, 2020) – At a time when having grace for self and others may be an essential practice, Emily Ley offers this reminder for young readers with the release of her newest book, Grace, Not Perfection for Young Readers: Believing You're Enough in a World of Impossible Expectations. The book hits shelves on Wednesday, Aug. 11 and will be available for purchase wherever books are sold.
Based on Ley's bestselling adult reader, Grace, Not Perfection, which has sold nearly 235,000 copies worldwide, the young reader edition tackles societal anxieties and pressures often faced by tween girls and offers tangible ways to simplify girls' lives in a generation that is busier and more distracted than ever.
"Adult readers were able to find this grace in the adult version of Grace, Not Perfection, now, we have a younger audience experiencing a reality that's possibly new for them and their parents," said Ley. "I hope no matter the age or book edition, that families can practice, share and experience that grace together."
With today's fast-paced, technology-driven society affecting all ages, Ley addresses how it takes the biggest toll on kids. Tweens today must navigate a variety of daily pressures including the expectation to participate in year-round activities, to be an excellent student, to take the perfect photo for every occasion, and to be friends with as many people as possible. These pressures can leave today's youth feeling exhausted and anxious. Ley's Grace, Not Perfection for Young Readers helps middle-grade girls develop a new, life-giving perspective.
With a colorful interior, plenty of photos, and actionable tips and lists, the young readers' edition of Ley's bestselling book reminds tweens and their parents that God abundantly pours out grace and longs for them to receive that grace in their everyday lives. Ley's ideas include how to:
Create significant moments rather than orchestrating a picture-perfect life.
Pare down activities to what matters most–without FOMO.
Simplify life by simplifying three major areas: space, time, and mind.
Create effective to-do lists and get through them one step at a time.
Grace, Not Perfection for Young Readers can help tween girls embrace the most important elements of life, trim off the superficial and superfluous, let go of unrealistic standards, and journey toward adulthood with the right outlook and tools to have a simpler, grace-filled, and happy life.
Grace, Not Perfection for Young Readers: Believing You're Enough in a World of impossible Expectations
(ISBN # 9781400220014) will be available in hardcover ($16.99), audio ($15.99) and e-book ($9.99) formats.
About the Author:
Emily Ley is the founder of Simplified® – a brand of planners and organizational tools for busy women. Emily has been featured in Forbes, Family Circle, Better Homes and Gardens, Glamour, and Good Housekeeping. She has been recognized with numerous awards, including Best New Product at the National Stationery Show as well as Small Business of the Year, Female Owned Business of the Year, and Entrepreneur of the Year by Studer Community Institute. Emily and her team collaborated with AT-A-GLANCE® to create gift and planning collections carried in Office Depot, Staples, and Target. Emily is the author of national bestselling books, Grace, Not perfection: Embracing Simplicity, Celebrating Joy, A Simplified Life: Tactical Tools for Intentional Living, and When Less Becomes More: Making Space for Slow, Simple, and Good. Now as an author, entrepreneur, wife and mother to three, Emily lives in Pensacola, Florida with her husband, Bryan, and their son Brady, and twins Tyler and Caroline.
About Tommy Nelson:
Tommy Nelson® is the children's division of Thomas Nelson. As a leading provider of Christian content, Tommy Nelson publishes a wide variety of high-quality, enjoyable products that are consistent with the teachings found in the Bible. Tommy Nelson's award-winning products are designed to expand children's imaginations and nurture their faith while inspiring them to develop a personal relationship with Jesus. For more information, visit www.tommynelson.com.
Media Contact: Natividad Lewis, Publicist, 931.698.9620  natividad.lewis@harpercollins.com