Educator's video for Class of 2020 reaches 2.7 million views
Karen Kingsbury's Let Me Hold You Longer Featured in Tear-Filled Tribute
CAROL STREAM, ILL. (May 4, 2020) – When Jessica Hundley decided this past weekend to film herself reading Karen Kingsbury's Let Me Hold You Longer (ISBN: 978-1-4143-8987-5, Tyndale House Publishers, 2004) to the class of 2020, she couldn't have imagined what would follow. Hundley, a library media specialist at Hardin County schools in Elizabethtown, KY, read the highly emotive book in an equally poignant way, and it resonated with viewers to the tune of 1.5 million views in the first 48 hours. The video, which has now been viewed 2.7 million times, is available here:
https://www.facebook.com/KarenKingsbury/videos/10223335159753668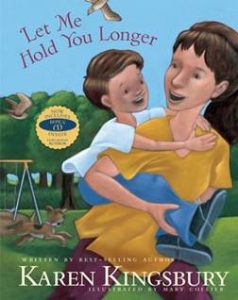 "I'm still overwhelmed with the response," said Hundley. "This is so amazing. Karen's book is beautiful on so many levels. I'm tickled that it has reached so many people."
After Hundley posted the video on her Facebook page, it was brought to Kingsbury's attention. The New York Times bestselling author sought permission from Hundley to post it on her social pages and did so midday Tuesday. In just over 24 hours, it reached one million views, and the video has now been viewed more than 2.7 million times. The video has driven sales of the book as well. Published by Tyndale House Publishers (@tyndalehouse), it has reached as high as No. 13 among all books on Amazon and No. 20 on Barnes & Noble.
Let Me Hold You Longer, which has sold more than 400,000 copies since its initial printing in 2004, features heartwarming illustrations and a sweet, reflective tone that encourages parents to savor not only their children's firsts, like first steps and first words, but the lasts as well.
With the tenderness of a mother speaking directly to her child, Karen reminds us not to miss last days of kindergarten and last at-bats in Little League amid the whirlwind of life. Adapted from a poem in her novel Rejoice, the book allows mothers and grandmothers everywhere to identify with the tenderhearted reflections on its pages.
A link to additional information about the book is available here: https://www.tyndale.com/p/let-me-hold-you-longer/9781414389875
Since its founding in 1962, Tyndale House Publishers has been a voice to trust for generations of readers. Today, Tyndale is one of the largest independent Christian publishers in the world. Tyndale's mission is to make the Bible accessible to as many people as possible in language that they can relate and respond to. Tyndale publishes the Holy Bible, New Living Translation (NLT) and offers nonfiction books that equip readers with Christ-centered insight, counsel, and life-improving stories. In addition, Tyndale publishes fiction from fresh new voices and celebrated authors alike, capturing the imagination of millions of readers. With a deep understanding of the importance of nurturing future generations, Tyndale also publishes children's products that make God's Word and wisdom come alive. Tyndale's independent status allows it to follow its founding model, giving a majority of annual revenue—more than $100 million throughout its history—to charitable missions. With every book purchased, Tyndale readers help meet the physical and spiritual needs of people around the world.