Editorial Nivel Uno acquires Casa Creacion
Editorial Nivel Uno strengthens its presence in the Christian publishing market with the acquisition of the important publishing house Casa Creation.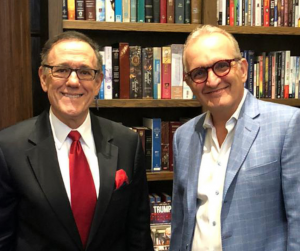 After several months of negotiations, on July 1 – at the Charisma Media headquarters in the city of Orlando, Florida – the signing of this momentous editorial transaction in the world Christian market was completed.
The purchase was announced by Sergio Daldi – owner of Editorial Nivel Uno – and Stephen Strang, CEO of Charisma Media and founding owner of Casa Creation.
With this action, the founder of Editorial Nivel Uno increases its market share in the fastest growing segment of the global Hispanic church.
With a catalog that contains more than 450 titles and around 100 authors focused on various topics such as Christian life, prayer, pastoral, family, spiritual warfare, study Bibles, devotionals, among others, Casa Creation —as it has done since its inception – will continue its commitment to serve the Christian people with the publication of works in Spanish, both by Hispanic authors and renowned international figures.
The purchase of Casa Creation allows the new editorial group to consolidate the list of Hispanic and international authors that it already publishes, including writers such as Mark Batterson, Jentezen Franklin, Rey Matos, John MacArthur, Lis Milland, Don Colbert , Iris Delgado, Cindy Trimm, Danilo Montero, Ross Campbell, Laura Herrera, John Eckhardt, Samara and James Perez, Michelle McClain-Walters, Jesús Adrián Romero, Robert Morris, Tim LaHaye, Max Lucado, among others.
"We are pleased to make this announcement and, at the same time, express our gratitude for Sergio Daldi and his team. This is a very good opportunity for Casa Creation. Sergio is highly respected for his service to the Christian community in Latin America with quality products for many years. We are confident that it will do great things for the authors and with the books published by Casa Creation, "said Stephen Strang, CEO of Charisma Media
"I am infinitely grateful to God for presenting me with this magnificent opportunity that, on the one hand, ensures the continuity of Casa Creation and, on the other, is part of a strategy to expand, strengthen and fulfill the call that God made to my life. many years in my native Argentina and that later – when I moved to this country – I continued with the foundation of the Level One Group. That call has not changed, on the contrary, it is strengthening; and it is that our editorial line serves the Hispanic church worldwide with recognized authors, with quality materials and with a price within the reach of our people, "said Sergio Daldi, president of the new editorial group.
This July begins the transition that consolidates the new organization with the transfer of its operations to the city of Miami to serve — in a more effective, direct and economic way — to the global market.