ECPA to honor Stan Gundry with the industry's Lifetime Achievement Award on May 5th in Nashville
Gundry to be recognized for his 40+ years of leadership and impact on the Christian publishing industry as publisher, author, theologian, and professor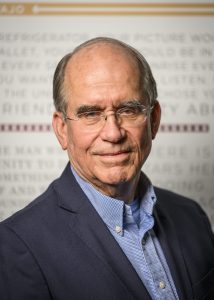 Tempe, Ariz., Feb., 17, 2020 – On behalf of the Christian publishing industry, ECPA announced today that they will present the Kenneth N. Taylor Lifetime Achievement Award to STAN N. GUNDRY, Senior Vice President & Publisher and Editor-in-Chief for HarperCollins Christian Publishing (HCCP), for his 40+ year impact on Christian publishing.
The award will be presented on May 5th at the ECPA Awards Celebration in Nashville, Tenn., among the industry's publishing leaders attending the ECPA Leadership Summit.
"The Kenneth N. Taylor Award carries an incredibly high standard, and there is no more worthy recipient than Stan Gundry," said ECPA president Stan Jantz. "He embodies all that the Award represents for our industry—exemplary Christian character, innovation, and growth."
Gundry's tenure with HCCP goes back to 1980 when he accepted a position at Zondervan to build the Zondervan Academic program acquiring and editing textbooks, Bible commentaries, and other resources for Christian scholarship. Today, Zondervan Academic publishes 50-60 titles a year.
He is the husband of Patricia S. Gundry, and they have four grown children. He is a graduate of the Los Angeles Baptist College (B.A., summa cum laude), Talbot Theological Seminary (B.D., summa cum laude), Union College of British Columbia (S.T.M.), and the Lutheran School of Theology at Chicago (S.T.D.). His graduate degrees were in historical theology. After serving in a pastorate, he taught as an adjunct professor at Trinity Evangelical Divinity School and was Professor of Theology at Moody Bible Institute where he taught for eleven years. He has also served two terms on the Board of Christians for Biblical Equality and is a past president of the Evangelical Theological Society. He has seven books to his credit, produced by himself or in collaboration with others and has written numerous articles for a wide variety of publications. In some circles he is best known for his articles and book on restoration of the Studebaker Avanti automobile.
Gundry will receive the award on May 5th at the ECPA Awards Celebration held at the Nashville Airport Marriott in conjunction with the ECPA Leadership Summit for Christian publishing leaders.  The evening's dinner gala will feature author STORMIE OMARTIAN as keynote speaker and the announcement of the 2020 Christian Book Award® winners, along with recognition of other industry milestones.
Event registration and ticket information is on the ECPA website at  https://www.ecpa.org/events/EventDetails.aspx?id=1290331.  For more information about the ECPA Leadership Summit, visit ECPALeadership.org.
The Kenneth N. Taylor Lifetime Achievement Award recognizes a leader from within the Christian publishing profession whose lifetime of achievement goes above and beyond: leading with exemplary Christian character, initiating innovative programs and products, and contributing to the mission and advancement of the Christian publishing industry. ECPA has presented Lifetime Achievement Awards since 1981 to those who have significantly impacted the industry.  Recipients listed at ECPA.org/page/lifetime.
The Evangelical Christian Publishers Association (ECPA) is an international non-profit trade organization comprised of member companies that are involved in the publishing and distribution of Christian content worldwide. Since 1974, ECPA has strengthened Christian publishing by building networking, information, and advocacy opportunities within the industry and throughout multiple channels so that our members can more effectively produce and deliver transformational Christian content. For more information about ECPA: info@ecpa.org, ECPA.org.
Media contacts:
Stan Jantz, ECPA President and CEO, sjantz@ecpa.org, 480-966-3998
Cindy Carter, ECPA Awards & Recognition Manager, ccarter@ecpa.org, 480-966-3998