ECPA to honor John and Elizabeth Sherrill with the Kenneth N. Taylor Lifetime Achievement Award for their contributions to Christian publishing and global impact for the cause of Christ
The publishing and writing duo founded Chosen Books and co-authored the classic bestsellers The Hiding Place, God's Smuggler, and The Cross and the Switchblade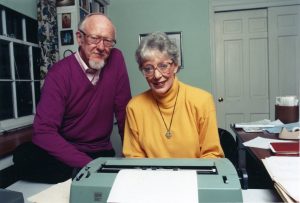 Tempe, Ariz., April 11, 2018 – On behalf of the Christian publishing industry, the Evangelical Christian Publishers Association (ECPA) will present the Kenneth N. Taylor Lifetime Achievement Award to John and Elizabeth (Tib) Sherrill on May 1st at the ECPA Awards Celebration in Washington, D.C., among the industry's publishing leaders.  John died in December at the age of 94.  Elizabeth will personally accept the honor for both of them that evening.
The Sherrills are recognized for their groundbreaking, history-changing contributions through writing and publishing and are best known for their dramatic memoirs written in vivid color and high-definition detail.  John and Elizabeth co-wrote the bestselling books The Cross and the Switchblade with David Wilkerson; God's Smuggler with Brother Andrew; and The Hiding Place with Corrie ten Boom. Christianity Today called the Sherrills, "the most influential Christian authors you know nothing about."
The contributions of John and Elizabeth Sherrill as writers, editors, and publishers to the world of books, and their impact on the Kingdom of God, cannot be overstated. They wrote thousands of magazine articles; crafted more than 30 books (with sales in excess of 60 million); taught narrative technique to generations of new writers; and started the publishing company Chosen Books.
"As a young bookseller in the 1970s, I clearly remember the effect that the books written by the Sherrills and published by Chosen had on our customers," said ECPA executive director Stan Jantz. "The books they wrote and published inspired and gave hope to millions of people. The way they wrote set the gold standard for storytelling today. ECPA is thrilled for the honor of presenting the Kenneth N. Taylor Lifetime Achievement Award to Tib Sherrill."
The Sherrills' start in book publishing began with meeting Corrie ten Boom and a vision:

In 1968, while staying at a Lutheran convent in Darmstadt, Germany, Tib met a little-known Dutch watchmaker named Corrie ten Boom who was also staying at the convent. Intrigued by Corrie's account of imprisonment in two concentration camps during World War II for hiding Jews during the Nazi occupation of the Netherlands, Tib felt the story merited a book. She and John signed a contract with a New York publisher for the yet-unwritten book.
Then a strange thing happened. Early one morning, still in bed, John had a kind of waking vision in which he saw a group of people—including their friends Leonard LeSourd and Catherine Marshall—sitting at a conference table on which was a pile of books. Beneath this scene a block of copy stated that this group of people had worked together for years, writing and editing Christian articles; now they had banded together to do the same with books. John explained, "I took coffee up and told Tib about the vision and asked her what she thought of starting a publishing house. To my astonishment Tib, who knew, if possible, even less about business than I did, said, 'Why not! It would be an adventure.'"
So the Sherrills bought back the rights from the New York publisher to their book with Corrie. The Hiding Place appeared in 1971 as the first publication of Chosen Books and went on to sell millions.
Charles Colson's Born Again, Catherine Marshall's The Helper, Betty Malz's My Glimpse of Eternity, and Bilquis Sheikh's I Dared to Call Him Father were just some of the bestsellers that Chosen published between 1974 and 1978.
Chosen was sold to Baker Publishing Group in 1992, while John and Elizabeth continued as writers and editors for Guideposts. Their work took them on year-long assignments, teaching Christian writing to newly literate populations in Africa and South America, as well as numerous trips to Europe, the Near and Far East, and to each of the fifty states. Elizabeth has taught writing workshops on five continents.
For almost seven decades, the Sherrills have challenged and encouraged countless readers with the power of God and His amazing grace in the lives of heroes of the faith around the world. Working together to research and write, they have demonstrated that fiction cannot match the thrill of the real-life story of a soul touched by God.
John Sherrill once explained, "I don't think books take off and do well or don't do well depending just on the quality of the writing. I think it depends on catching something that is in the air—that people need."
The Sherrills have three children, eight grandchildren and are expecting their fourth great-grandchild. In December 2017, after a marriage of 70 years, John went home to heaven.
###
The Kenneth N. Taylor Lifetime Achievement Award recognizes a leader from within the Christian publishing profession whose lifetime of achievement goes above and beyond: leading with exemplary Christian character, initiating innovative programs and products, and contributing to the mission and advancement of the Christian publishing industry. ECPA has presented Lifetime Achievement Awards since 1981 to those who have significantly impacted the industry. Past recipients are listed at ECPA.org/?page=lifetime
The Evangelical Christian Publishers Association (ECPA) is an international non-profit trade organization comprised of member companies that are involved in the publishing and distribution of Christian content worldwide. Since 1974, ECPA has strengthened Christian publishing by building networking, information, and advocacy opportunities within the industry and throughout multiple channels so that our members can more effectively produce and deliver transformational Christian content. For more information about ECPA:  info@ecpa.org  ECPA.org.
Media contacts:
Stan Jantz, ECPA Executive Director, sjantz@ecpa.org, 480-966-3998
Cindy Carter, ECPA Awards & Recognition Manager, ccarter@ecpa.org, 480-966-3998