ECPA presents Dr. Gary Chapman with the industry's Pinnacle Award for the exceptional impact of The
5 Love Languages® series
Titles from the 10-book collection have appeared on the New York Timesbestseller list continuously since 2007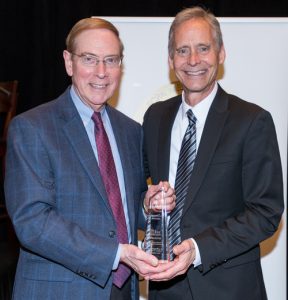 May 13, 2019 – Tempe, Ariz. –  The Evangelical Christian Publishers Association (ECPA) has presented New York Times bestselling author and counselor DR. GARY CHAPMAN with the industry's PINNACLE AWARD for the outstanding contribution of The 5 Love Languages® series, both to the industry and to society at large.
The collection of 10 books, published by Northfield Publishing (imprint of Moody Publishers), has achieved more than 17 million in sales and has appeared on the New York Times bestseller list continuously since 2007.  The 5 Love Languages® original edition received an ECPA Diamond Award for surpassing 10 million in sales in 2015.  The 5 Love Languages® for Children received an ECPA Platinum Award for surpassing 1 million in sales in 2011.  The 5 Love Languages® editions for Men, Singles, and Teens have each received ECPA Gold Awards for surpassing 500,000 in sales.
"Rarely does an author like Gary Chapman come along, one whose books impact marriages and families on a global scale," said ECPA president Stan Jantz. "It was an honor to recognize the enormous influence of Dr. Chapman's writing, coupled with the skill of Moody to publish the most bestselling books of their kind in the world."
The industry was pleased to surprise Dr. Chapman with this award on April 30 at the ECPA Awards Celebration, held during the ECPA Leadership Summit in Chicago, among publishing leaders and executives.  Dr. Chapman was the keynote speaker at the event.  Upon accepting the award, he recalled his efforts to get his original manuscript for The 5 Love Languages published – which was born from his own life experiences plus many years of pastoring and marriage counseling.
After receiving the award, Gary Chapman stated, "I was totally shocked to receive the Pinnacle Award.  I stand amazed at the way God has used The 5 Love Languages series to help so many couples, parents, and single adults. I am often asked, how I explain the continued success of the series.  My response is, 'The short answer is God!  And, the long answer is God!' We plant the seeds, but God gives the increase. To God be the glory."
"It has been one of my highest privileges in Christian publishing to work for more than 35 years with Dr. Gary Chapman," expressed former publisher of Moody Publishers Greg Thornton, who is now senior VP of Media at Moody Bible Institute. "In getting to know Gary like a brother, I will say he lives completely and joyfully what he speaks and writes."
Dr. Chapman is only the second recipient of this high honor from the industry, 12 years after the initial award was presented to Jerry Jenkins and Tim LaHaye for the Left Behind® series (Tyndale House).
For more information about the series, visit www.5lovelanguages.com.
Moody Publishers produced a tribute video about Dr. Chapman and the story of The 5 Love Languages®: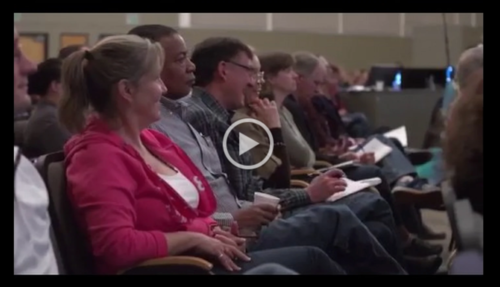 Dr. Gary Chapman—author, speaker, pastor, and counselor—has a passion for people, and for helping them form lasting relationships. Chapman is a well-known marriage counselor and director of marriage seminars. The 5 Love Languages® is one of Chapman's most popular titles, topping various bestseller charts for years, selling over twelve million copies. Chapman has been directly involved in real-life family counseling for more than 45 years. His nationally-syndicated radio programs air on more than 400 stations.  
The vision of Moody Publishers is to proclaim the gospel of Jesus Christ and a biblical worldview in such creative and powerful ways that individuals worldwide will live in increasing measure as His fully-devoted followers.  For more information about Moody Publishers visit www.moodypublishers.com.
The Evangelical Christian Publishers Association (ECPA) is an international non-profit trade organization comprised of member companies that are involved in the publishing and distribution of Christian content worldwide. Since 1974, ECPA has strengthened Christian publishing by building networking, information, and advocacy opportunities within the industry and throughout multiple channels so that our members can more effectively produce and deliver transformational Christian content. For more information about ECPA: info@ecpa.org  ECPA.org  @ECPA
Media contacts:
Stan Jantz, President, ECPA, sjantz@ecpa.org, 480-966-3998
Cindy Carter, ECPA Awards Manager, ccarter@ecpa.org, 480-966-3998
Janis Todd, Publicity Manager, Moody Publishers, janis.todd@moody.edu
TOP PHOTO: Dr. Gary Chapman receives the Pinnacle Award from ECPA president Stan Jantz.  Photo credit: Michael Will Productions