ECPA names 65 finalists for 2022 Christian Book Award® program
Winners will be announced on May 3rd at the ECPA Awards Celebration held in Philadelphia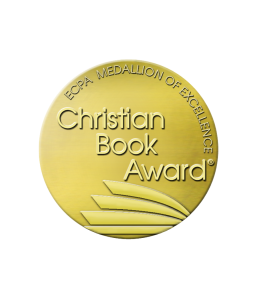 (TEMPE, ARIZ., April 7, 2022) — The Evangelical Christian Publishers Association (ECPA) names today the top five finalists in 12 categories for the 2022 Christian Book Award  program.  From a record-breaking pool of nearly 330 entries, these 65 finalists represent the work of 23 Christian publishers and 11 imprints, and include ties in five categories.
The winners in each category, along with the 2022 Christian Book of the Year®, will be announced at the ECPA Awards Celebration dinner, held May 3rd in Philadelphia, during the ECPA Leadership Summit, amidst an audience of Christian publishing executives and managers.
The event will feature New York Times bestselling author LATASHA MORRISON, whose book "Be the Bridge" won the 2021 Christian Book of the Year. In addition, bestselling author and pastor TIMOTHY KELLER will receive the industry's Pinnacle Awardin recognition of the body of his literary work and its significant impact on society and the church.
"As a community of people committed to excellence in publishing, we don't invest in the challenging and complex work that brings books, Bibles and other resources to people throughout the world merely to win awards," states ECPA president Jeff Crosby.
"Rather, we publish to fulfill our distinctive, gospel-advancing missions. And yet the annual Christian Book Awards provide a vital way of celebrating, recognizing, and expanding the awareness of significant works in a variety of categories. On behalf of ECPA, I extend my hearty congratulations to each of the authors and publishers who make up our list of finalists."
Announcing the finalists in each Christian Book Award category:
AUDIO
100 Days of Believing Bigger, written and narrated by Marshawn Evans Daniels, produced by ONE Audiobooks & Verity Audio Productions, published by DaySpring, 9781648706271
The Action Bible, illustrated by Sergio Cariello; narrated by Lance Smith, Michael Beck, Paul Michael, Sarah Zimmerman, Erin Bennett, Jesse Abeel, Preston Butler III, produced by ONE Audiobooks & Verity Audio Productions, published by David C Cook
Enemies and Allies, Joel C. Rosenberg; narrated by Michael Beck, produced by ONE Audiobooks & Verity Audio Productions, published by Tyndale House Publishers
Family Shepherds, Voddie Baucham Jr., narrated by Preston Butler III, produced and published by ONE Audiobooks & Verity Audio Productions
God Speaks Through Wombs, written and narrated by Drew Jackson, produced by Christian Audio, a division of Recorded Books, published by InterVarsity Press
---
BIBLES
CSB  Single-Column Wide-Margin Bible, Holman Bibles, B&H Publishing Group, 9781087742854
NIV Grace and Truth Study Bible, Dr. R. Albert Mohler, Jr., General Editor, Zondervan, 9780310447122
NIV Radiant Virtues Bible: A Beautiful Word Collection, Zondervan, 9780310456926
NLT Immerse: The Reading Bible, Complete Set, Tyndale House Publishers, 9781496436542
NRSVCE Illustrated Catholic Bible, Catholic Bible Press/ HCCP, 9780785239635
---
BIBLE REFERENCE WORKS
A Theology of Paul and His Letters: The Gift of the New Realm in Christ, Douglas J. Moo, Zondervan Academic, 9780310270904
The Lord Is My Shepherd: Psalm 23 for the Life of the Church, Richard S. Briggs, Baker Academic/ Baker Publishing Group, 9781540961853
Old Testament Use of Old Testament: A Book-by-Book Guide, Gary Edward Schnittjer, Zondervan Academic, 9780310571100
The Prophets of Israel: Walking the Ancient Paths, James K. Hoffmeier, Kregel Academic, 9780825445729
Providence, John Piper, Crossway, 9781433568343
---
BIBLE STUDY
Beautiful Word: Revelation Study Guide, Margaret Feinberg, HarperChristian Resources, 9780310122388
Forgiving What You Can't Forget Study Guide, Lysa TerKeurst, HarperChristian Resources, 9780310104865
Now That Faith Has Come: A Study of Galatians, Beth Moore and Melissa Moore, Tyndale House Publishers, 9781735890906
Ten Words to Live By: Delighting in and Doing What God Commands, Jen Wilkin, Crossway, 9781433566349
What Does It Mean to Be Chosen?: An Interactive Bible Study Volume 1, Amanda Jenkins, Dallas Jenkins, and Dr. Douglas S. Huffman, David C Cook, 9780830782680
---
BIOGRAPHY & MEMOIR – tie
Centered: Trading Your Plans for a Life That Matters, Jason Brown, WaterBrook, 9780593193358
Food Saved Me: My Journey of Finding Health and Hope through the Power of Food,Danielle Walker, Tyndale House Publishers, 9781496444745
The Making of C.S. Lewis: From Atheist to Apologist, 1918–1945, Harry Lee Poe, Crossway, 9781433567834
Peacebunny Island: The Extraordinary Journey of a Boy and His Comfort Rabbits, and How They're Teaching Us about Hope and Kindness, Caleb Smith, Tyndale House Publishers, 9781496452474
Sweet Like Jasmine: Finding Identity in a Culture of Loneliness, Bonnie Gray, Harvest House Publishers, 9780736983426
When Faith is Forbidden: 40 Days on the Frontlines with Persecuted Christians, Todd Nettleton, Moody Publishers, 9780802423061
---
CHILDREN – tie
Any Time, Any Place, Any Prayer: A True Story of How You Can Talk With God, Laura Wifler; illustrated by Catalina Echeverri, The Good Book Company, 9781784986605
Bible Stories Every Child Should Know, Kenneth N Taylor; illustrated by Jenny Brake, 10Publishing, 9781913278427
Indescribable for Little Ones (Indescribable Kids), Louie Giglio; illustrated by Nicola Anderson, Tommy Nelson, 9781400226153
My Arms Will Hold You Tight, Crystal Bowman and Teri McKinley; illustrated by Anna Kubaszewska, Tyndale House Publishers, 9781496446220
Near, Sally Lloyd-Jones; illustrated by Jago, Zonderkidz, 9780310768265
Where'd My Giggle Go?, Max Lucado; illustrated by Sarah Jennings, Tommy Nelson, 9781400220670
---
CHRISTIAN LIVING – tie
The Death of Porn: Men of Integrity Building a World of Nobility, Ray Ortlund, Crossway, 9781433576690
Deeper: Real Change for Real Sinners, Dane C. Ortlund, Crossway, 9781433573996
Live No Lies: Recognize and Resist the Three Enemies That Sabotage Your Peace, John Mark Comer, WaterBrook, 9780525653127
Prayer in the Night: For Those Who Work or Watch or Weep, Tish Harrison Warren, InterVarsity Press, 9780830846795
Rejoice and Tremble: The Surprising Good News of the Fear of the Lord, Michael Reeves, Crossway, 9781433565328
When Strivings Cease: Replacing the Gospel of Self-Improvement with the Gospel of Life-Transforming Grace, Ruth Chou Simons, Nelson Books, 9781400224999
---
DEVOTION & GIFT
The Anne of Green Gables Devotional, Rachel Dodge; illustrated by Jana Christy, Barbour Publishing, 9781643526164
God Is My Hiding Place: 40 Devotions for Refuge and Strength, Corrie ten Boom, Chosen Books/ Baker Publishing Group, 9780800761776
Seeing Beautiful Again: 50 Devotions to Find Redemption in Every Part of Your Story,Lysa TerKeurst, Thomas Nelson Publishers, 9781400218912
Simply Christmas: A Busy Mom's Guide to Reclaiming the Peace of the Holidays, Tama Fortner, Ink & Willow, a gift line from WaterBrook, 9780593233382
With Fresh Eyes: 60 Insights into the Miraculously Ordinary from a Woman Born Blind, Karen Wingate, Kregel Publications, 9780825446818
---
FAITH & CULTURE
Embracing the New Samaria: Opening Our Eyes to Our Multiethnic Future, Alejandro Mandes, NavPress, 9781641584340
He Saw That It Was Good: Reimagining Your Creative Life to Repair a Broken World,Sho Baraka, WaterBrook, 9780593193044
How to Fight Racism: Courageous Christianity and the Journey Toward Racial Justice, Jemar Tisby, Zondervan Reflective, 9780310104773
The Making of Biblical Womanhood: How the Subjugation of Women Became Gospel Truth, Beth Allison Barr, Brazos Press/ Baker Publishing Group, 9781587434709
Talking About Ethics: A Conversational Approach to Moral Dilemmas, Michael S. Jones, Mark J. Farnham, and David L. Saxon, Kregel Academic, 9780825446917
---
MINISTRY RESOURCES – tie
Emotionally Healthy Discipleship: Moving from Shallow Christianity to Deep Transformation, Peter Scazzero, Zondervan Reflective, 9780310109488
Lead Like It Matters to God: Values-Driven Leadership in a Success-Driven World, Richard Stearns, InterVarsity Press, 9780830847303
Ministers of Reconciliation: Preaching on Race and the Gospel, Daniel Darling, editor, Lexham Press, 9781683594772
Preaching to People in Pain: How Suffering Can Shape Your Sermons and Connect with Your Congregation, Matthew D. Kim, Baker Academic/ Baker Publishing Group, 9781540961297
Tempered Resilience: How Leaders Are Formed in the Crucible of Change, Tod Bolsinger, InterVarsity Press, 9780830841646
Urban Apologetics: Restoring Black Dignity with the Gospel, Eric Mason, General Editor, Zondervan Reflective, 9780310100942
---
NEW AUTHOR
Becoming All Things: How Small Changes Lead to Lasting Connections Across Cultures, Michelle Ami Reyes, Zondervan Reflective, 9780310108917
Finding My Father: How the Gospel Heals the Pain of Fatherlessness, Blair Linne, The Good Book Company, 9781784986469
I Take My Coffee Black: Reflections on Tupac, Musical Theater, Faith, and Being Black in America, Tyler Merritt, Worthy Books, a division of Hachette Book Group, 9781546029410
Pure in Heart: Sexual Sin and the Promises of God, J. Garrett Kell, Crossway, 9781433574894
The Well-Watered Woman: Rooted in Truth, Growing in Grace, Flourishing in Faith, Gretchen Saffles, Tyndale House Publishers, 9781496445452
---
YOUNG PEOPLE'S LITERATURE – tie
Anxious for Nothing (Young Readers Edition): Living Above Anxiety and Loneliness, Max Lucado, Tommy Nelson, 9781400229543
Everybody, Always for Kids, Bob Goff and Lindsey Goff Viducic, Tommy Nelson, 9781400220830
Little Pilgrim's Progress: Illustrated Edition, Helen Taylor; illustrated by Joe Sutphin, Moody Publishers, 9780802420534
Kids' Guide to Exploring the Bible, A. L. Rogers, Barbour Publishing, 9781643529974
Roar Like a Lion: 90 Devotions to a Courageous Faith, Levi Lusko; illustrated by Catherine Pearson, Tommy Nelson, 9781400224364
Soul Fuel for Young Explorers, Bear Grylls, Hodder & Stoughton, 9781529347746
The finalists and winners will be promoted through multiple retail and media outlets, including a suite of ads through media sponsor Christianity Today.  The Christian Book Award® program is supported by retail partners ChristianBook.com, Lifeway, Logos, Mardel, The Munce Group/MTL, NetGalley, and The Parable Group.
> View the 2022 finalists at ChristianBookAwards.com/finalists.html
> To learn more about the program, visit ChristianBookAwards.com.
> For more information on attending the ECPA Awards Celebration, visit ECPAleadership.org/awards-dinner.html
---
The Christian Book Award program has recognized the absolute highest quality in Christian books since 1978, when it was called the Gold Medallion Award. Based on excellence in content, literary quality, design, and impact, the Christian Book Award program is the oldest and among the most prestigious awards in the religious publishing industry.  ChristianBookAwards.com
The Evangelical Christian Publishers Association (ECPA) is an international non-profit trade organization comprised of member companies that are involved in the publishing and distribution of Christian content worldwide. Since 1974, ECPA has strengthened Christian publishing by building networking, information, and advocacy opportunities within the industry and throughout multiple channels so that our members can more effectively produce and deliver transformational Christian content. For more information about ECPA: info@ecpa.org, ECPA.org.
Media contacts:
Jeff Crosby, ECPA President and CEO, jcrosby@ecpa.org, 480-966-3998
Cindy Carter, ECPA Awards & Recognition Manager, ccarter@ecpa.org, 480-966-3998