ECPA mourns passing of Rev. Billy Graham and
honors his publishing legacy
Graham Given ECPA Lifetime Achievement Award in 1990
Christian Book of the Year® awarded to Graham's book, Nearing Home, in 2012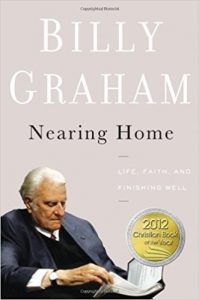 (TEMPE, ARIZ., February 21, 2018)  The Evangelical Christian Publishing Association (ECPA) mourns the passing of legendary evangelist and author Rev. Billy Graham who died today at age 99.
"Billy Graham played a remarkable role in Christian publishing," says ECPA Executive Director Stan Jantz.  "His multiple bestselling books have circulated around the world, impacting countless lives for 70 years.  With millions of books sold to date, we know his publishing legacy will continue to have an impact for years to come."
In 1990, Graham was awarded ECPA's highest industry award, The Gold Medallion Lifetime Achievement Award, for his significant contributions and accomplishments in publishing.
In 2012 ECPA awarded Graham their highest book award, The Christian Book of the Year®, for Graham's title Nearing Home: Life, Faith and Finishing Well (Thomas Nelson), which also received ECPA's Gold Award in 2013 for surpassing 500,000 in sales.
Seven of Graham's books were recipients in ECPA's annual book awards currently known as the industry's Christian Book Awards®, including 1998 winner Just As I Am (Zondervan) and 1984 winner Approaching Hoofbeats (Word).
According to the Billy Graham Evangelistic Association, Graham authored 34 books (see list below) including his memoir, Just As I Am (Zondervan/ HarperCollins), which remained on The New York Times bestseller list for 18 weeks and appeared on ECPA's Best of 2012 Christian bestsellers list.  His first bestseller, Peace With God (Word), sold more than two million copies in 38 languages.  Seventeen of his titles have received Gold and Platinum sales awards for exceeding 500,000 and 1 million in sales respectively.
"Despite the great publishing success that Billy Graham enjoyed for over fifty years, it was never about bestsellers," says David Moberg, senior v-p and group publisher for HarperCollins Christian Publishing Trade Books Group and vice-chair of ECPA. "It was always only about one thing…the Gospel.  We have been blessed and inspired to have served as his publisher for many years and will always treasure this once-in-a-lifetime opportunity."
"Dr. Graham's simple Gospel message is a refreshing renewal to what has often become pop-culture messaging," says Byron Williamson, CEO of Worthy Publishing and Chair of ECPA. "When supporting him as his publisher through the years at Word, his humility and godly presence were humbling."
As Publishers Weekly reports: His death—just months before his 100th birthday—comes just as the first of a small wave of new and expanded books on Graham, including two by top scholars, are coming out.
ECPA plans to commemorate Billy Graham's publishing legacy during its upcoming 40th anniversary celebration of the Christian Book Awards held May 1st at the Museum of the Bible in Washington DC. Specific plans are forthcoming and will be announced on ECPALeadership.org.
###
The Evangelical Christian Publishers Association (ECPA) is an international non-profit trade organization comprised of member companies that are involved in the publishing and distribution of Christian content worldwide. Since 1974, ECPA has strengthened Christian publishing by building networking, information, and advocacy opportunities within the industry and throughout multiple channels so that our members can more effectively produce and deliver transformational Christian content. ECPA.org
####
BOOKS BY REV. BILLY GRAHAM:
2017 — Hope for Each Day: 365 Devotions for Kids (Tommy Nelson)
---
2015 — God's Good News Bible Storybook (Tommy Nelson)
---
2015 — Where I Am: Heaven, Eternity and Our Life Beyond (Thomas Nelson)
ECPA Christian Book Award® finalist (2016)
---
2013 — The Reason for My Hope: Salvation (Thomas Nelson)
---
2012 — The Heaven Answer Book (Thomas Nelson)
---
2011 — Nearing Home: Life, Faith and Finishing Well (Thomas Nelson)
ECPA Christian Book of the Year® (2012)
ECPA Gold Sales Award (over 500,000 sold)
---
2010 — Storm Warning (Thomas Nelson, reprint edition)
---
2008 — Wisdom for Each Day (Thomas Nelson)
---
2007 — Just As I Am (HarperCollins, reprint edition)
---
2006 — The Journey: How to Live by Faith in an Uncertain World (W Publishing Group)
ECPA Gold Sales Award (over 500,000 sold)
---
2005 — Living in God's Love: The New York Crusade (Putnam Publishing)
Reprinted as paperback in 2006 under the title, The Last Crusade (Berkley Trade)
---
2003 — The Key to Personal Peace (Thomas Nelson)
---
2002 — Hope for Each Day (J. Countryman)
ECPA Platinum Sales Award (over 1 million sold)
---
1997 — Just As I Am (Zondervan/HarperCollins)
Updated and expanded in 2007, HarperCollins
ECPA Gold Medallion Book Award winner (1998)
ECPA Platinum Sales Award (over 1 million sold)
ECPA Christian best-seller list
---
1992 — Storm Warning (W Publishing)
Revised and expanded in 2010, Thomas Nelson
ECPA Gold Medallion Book Award finalist (1993)
---
1991 — Hope for the Troubled Heart (Word Publishing)
ECPA Gold Sales Award (over 500,000 sold)
---
1988 — Answers to Life's Problems (Word Publishing)
---
1987 — Facing Death and the Life After (Word Publishing)
Christian Booksellers Association best-seller list
ECPA Gold Medallion Book Award finalist (1988)
---
1986 — Unto the Hills (Word Publishing)
ECPA Gold Medallion Book Award finalist (1987)
ECPA Gold Sales Award (over 500,000 sold)
---
1984 — Peace with God (Word Publishing, reprint edition)
ECPA Platinum Sales Award (over 1 million sold)
---
1984 — A Biblical Standard for Evangelists (World Wide Publications)
---
1983 — Approaching Hoofbeats: The Four Horsemen of the Apocalypse
(Word Publishing)
The New York Times best-seller list
ECPA Gold Medallion Book Award winner (1984)
ECPA Platinum Sales Award (over 1 million sold)
---
1981 — Till Armageddon (Word Publishing)
ECPA Platinum Sales Award (over 1 million sold)
---
1978 — The Holy Spirit (Word Publishing)
ECPA Gold Medallion Book Award finalist (1979)
ECPA Gold Sales Award (over 500,000 sold)
---
1977 — How to Be Born Again (W Publishing Group)
ECPA Platinum Sales Award (over 1 million sold)
---
1975 — Angels: God's Secret Agents (Guideposts Associates)
Publishers Weekly and The New York Times best-seller lists
ECPA Platinum Sales Award (over 1 million sold)
---
1971 — The Jesus Generation (World Wide Publications)
---
1969 — The Challenge (Doubleday & Co.)
---
1965 — World Aflame (Doubleday & Co.)
The New York Times and Time magazine best-seller lists
ECPA Platinum Sales Award (over 1 million sold)
---
1960 — Billy Graham Answers Your Questions (World Wide Publications)
---
1960 — My Answer (Doubleday & Co.)
ECPA Platinum Sales Award (over 1 million sold)
---
1958 — Billy Graham Talks to Teenagers (Zondervan)
---
1955 — The Secret of Happiness (Doubleday & Co.)
ECPA Platinum Sales Award (over 1 million sold)
---
1955 — Freedom from the Seven Deadly Sins (Zondervan)
---
1953 — Peace with God (Doubleday & Co.)
More than 2 million copies sold in 38 languages; revised and expanded in 1984, Word Publishing
---
1953 — I Saw Your Sons at War (Billy Graham Evangelistic Association)
---
1947 — Calling Youth to Christ (Zondervan)