ECPA Chooses Three IVP Titles as Finalists for
2017 Christian Book Awards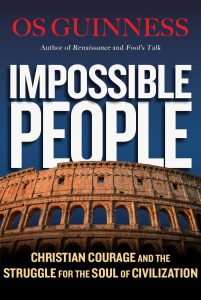 WESTMONT, IL—The Evangelical Christian Publishers Association (ECPA) chose three InterVarsity Press (IVP) titles as finalists for its 2017 Christian Book Award program. Impossible People, New Dictionary of Theology, and Saving the Bible from Ourselves are among the fifty-nine finalists selected as the year's best Christian titles. Five finalists were chosen in eleven categories. The winners will be announced at the ECPA Awards Celebration held at the industry's Leadership Summit onMay 2 in Colorado Springs.
"These finalists emerged from a rigorous judging process and represent the best our industry produced this past year. Even more important is the impact these excellent books, Bibles, and resources are having on the church and wider culture," said Stan Jantz, ECPA's executive director.
Impossible People: Christian Courage and the Struggle for the Soul of Civilization by Os Guinness is an ECPA finalist in the Faith & Culture category. Guinness argues that we must engage secularism and atheism in new ways, confronting competing ideas with discernment and fresh articulation of the faith. Christians are called to be impossible people, full of courage and mercy in challenging times. Rick Warren, author of The Purpose-Driven Life, said, "I read everything Os Guinness writes because he always challenges my thinking and enlarges my perspective. Impossible People may be his most important work. Read it, then buy five copies for friends and discuss it together. The message is that important. This could be the most important book you read this year."
New Dictionary of Theology: Historical and Systematic is one of the five finalists in the Bible Reference Works category. This new edition combines excellence in scholarship with a high standard of clarity and profound insight into current theological issues. Over three hundred contributors form an international team of renowned scholars, including Marcella Altaus-Reid, Richard Bauckham, David Bebbington, Kwame Bediako, Todd Billings, Oliver Crisp, Samuel Escobar, John Goldingay, Tremper Longman III, John McGuckin, Jennifer McNutt, Michael J. Nasir-Ali, Bradley Nassif, Mark Noll, Anthony Thiselton, John Webster, and N. T. Wright. "New Dictionary of Theology is a single volume, one-stop resource that is valuable for anyone who wants a useful primer and introduction to the grand spectrum of theology," said Martin Williams of Vox Reformata.
The third ECPA finalist from IVP is Glenn Paauw's Saving the Bible from Ourselves: Learning to Read and Live the Bible Well in the Bible Study category. "Glenn Paauw has written a serious and compelling book on the Bible," said Walter Brueggemann of Columbia Theological Seminary. "The tone of his writing is puckish enough to keep us turning pages for more. After identifying our lazy readiness to reduce the Bible to convenient 'scripturettes,' Paauw guides us to a way to the adult work of serious engagement with the Bible." Paauw introduces readers to seven new understandings of the Bible as steps on the path to recovering one deeply engaged Bible. With each "new" Bible presented, deficiencies in how we currently interact with the Bible are explored, followed by recommendations for a new practice.
See a complete list of IVP's award-winning titles at ivpress.com/award-winners.
Founded in 1947 as an extension of InterVarsity Christian Fellowship/USA, InterVarsity Press serves those in the university, the church and the world by publishing thoughtful Christian books that equip and encourage people to follow Jesus as Savior and Lord in all of life. For more information, visit ivpress.com.
Media Contact: Krista Clayton | 630.734.4013 | kclayton@ivpress.com