ECPA celebrates 10 Year anniversary of Top Shelf Book Cover Award program
The 2022 program will award in four categories, and invite art directors from submitting publishers to participate in judging panel.
Submission period opens April 15 through August 15 with winners announced at ECPA PubU in Nashville this Fall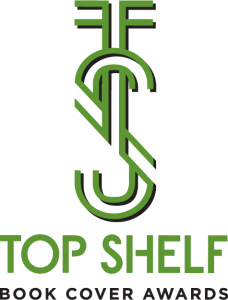 APRIL 4, 2022, TEMPE, ARIZ. – The Evangelical Christian Publishers Association (ECPA) will celebrate the 10th year anniversary of the industry's premier award program for book design, the Top Shelf Book Cover Award – with special program features and events this year.
The 2022 program will now award designs in four categories: Non-Fiction, Fiction, Bibles, and Children's.  In the past, judges chose the top designs, regardless of category.  Last year, the Top Shelf Award was presented to a record number 30 covers.  Of those, three were Children's books, two were Bibles, and the rest were Non-Fiction.  This change will allow judges to highlight the best designs in each genre.
In addition, this year's judging process will feature top designers from each submitting publisher, who will be invited to cast a ballot in each of the four categories (though votes cannot be cast for their own designs).  Thus, each submitting publisher is asked to appoint a designer to participate in the judging process.
"This special anniversary year of the Top Shelf Awards gives us an opportunity to have the industry celebrate the industry," explained Jeff Crosby, ECPA president. "We wanted to invite the designers who work all year in Christian publishing designing works of excellence to be part of the process." As in the previous ten years, the judging criteria will focus on the appropriateness for the market, level of conceptual thinking, and quality of execution.
The submission period will be open April 15 through August 15 for titles published from June 2021 to August 2022.
Torrey Sharp, principal of Faceout Studios and program advisor, suggests this key strategy for determining what covers to submit:
"The biggest advice I can give is to curate a submission list during the year as books release. Then when the submission period opens, run each possible submission through the award criteria: appropriateness for the market, level of conceptual thinking, and quality of execution."
A unique aspect of Top Shelf is that each selection is accompanied by a judge's comment. This helps inform everybody why certain winners rise to the top.  Winners will be announced in a special session at ECPA PubU on November 16 at Lipscomb University in Nashville.  ECPA is already working on how to showcase the award's history within the context of larger design trends over the years.  In addition, ECPA PubU will feature a Design track of six sessions for industry designers – to network, learn, and discuss together the latest topics in design.
Reflecting on the award and ECPA's commitment to showcasing beautiful and effective design, Torrey expressed:
"I'm grateful to be part of an ECPA community that is striving to produce meaningful and beautiful books. The Top Shelf Award program has given ECPA a vehicle for celebrating beauty, validating the work of artists and designers and encouraging excellence in every facet of what we do."
PROGRAM LINKS:
The ECPA Top Shelf Award program is managed by the Evangelical Christian Publishers Association (ECPA) in order to recognize design excellence in the Christian publishing industry. Through programs, events, communications, recognition and research, ECPA strengthens publishing communities within the industry.  The ECPA Design E-Community, PubU Design training sessions, and Top Shelf Awards are among several ECPA-driven opportunities that designers have to network, stay informed, and be recognized within the industry. For more information on the Top Shelf Book Cover Design Award program, visit TopShelfAward.org.
The Evangelical Christian Publishers Association (ECPA) is an international non-profit trade organization comprised of member companies that are involved in the publishing and distribution of Christian content worldwide. Since 1974, ECPA has strengthened Christian publishing by building networking, information, and advocacy opportunities within the industry and throughout multiple channels so that our members can more effectively produce and deliver transformational Christian content. ECPA.org
Media contacts:
Jeff Crosby, ECPA President and CEO, ECPA, 480-966-3998, jcrosby@ecpa.org
Cindy Carter, ECPA Recognition Manager, 480-966-3998, ccarter@ecpa.org