ECPA board chair Byron Williamson transitions out of role
ECPA announces board reassignments:  Jeff Crosby to fulfill chair term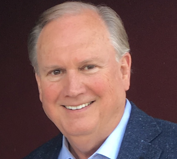 ECPA board chair Byron Williamson has decided to transition out of Hachette | Nashville, effective October 1. "I'm blessed in almost every way possible, among them the opportunity to serve on the board at least four times through decades past," said Williamson. One year ago, Hachette acquired Worthy Publishing, founded by Williamson in 2009.
ECPA president Stan Jantz remarked, "I have known Byron for more than 40 years, and one of the joys of my Christian book career has been the last four years, when I have been privileged to follow his board leadership and vision for the expanding ministry of Christian publishing."
The ECPA board has appointed vice-chair Jeff Crosby, publisher at InterVarsity Press, to serve as chair of ECPA, fulfilling the unexpired term of Byron Williamson, effective October 1. In addition, the board has appointed Dan Kok, SVP of Operations for Crossway, to fulfill the unexpired term of Jeff Crosby as vice-chair. Kok will continue to serve in his role as board secretary.  Dan Baker, COO of Baker Publishing Group, was appointed ECPA treasurer upon the resignation of Tim Murphy, former CFO of Urban Ministries, Inc.