Early bird registration opens for ECPA Leadership Summit
Industry executives and managers to gather in Philadelphia on May 3-4
ECPA to host first in-person Leadership Summit since 2019 on "Elevating Publishing's Impact" and includes publisher case studies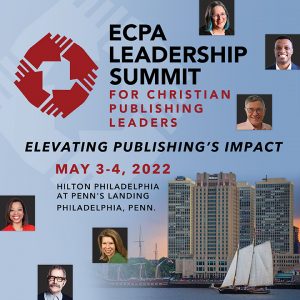 TEMPE, ARIZ., JANUARY 24, 2022 — ECPA has announced the program and opened early bird registrationfor its first in-person Leadership Summit since 2019 – to be held May 3-4, 2022 at the Hilton Philadelphia at Penn's Landing and the American Bible Society in Philadelphia, Pennsylvania.
The conference will feature thought leaders and experts, addressing the industry's leaders around the theme, "Elevating Publishing's Impact." They include:
Cherie Harder, President of The Trinity Forum
Eugene Habecker, author of "The Softer Side of Leadership"
Kristen McLean, Executive Director, The NPD Group
Dr. Theon E. Hill, Aspen Fellow and Assoc. Professor of Communications, Wheaton College
Nicole Martin, VP of Church Engagement & Exec. Director of Trauma Healing, American Bible Society
Stan Jantz, former ECPA president and co-founder of Global Discipleship Alliance
Paul David Tripp, bestselling author, speaker and pastor
Matt Baehr, Executive Director, Book Manufacturer's Institute
Kelly Gallagher, VP Content Acquitision, Ingram Content Group
David Hetherington, VP Global Business Development, Books International
Ben McCoy, Director of inventory and fulfillment operations, InterVarsity Press
"We will have an opportunity to learn from our speakers and from one another, and to glean information that helps us respond to the opportunities and challenges in the marketplace," states ECPA president Jeff Crosby. "As a former publisher before leading ECPA, I always looked forward to this event and the marketplace intelligence I received through participating in the larger community of publishers."
In addition, three publisher-led case studies will be presented as concurrent breakout sessions:
Elevating Church Engagement will be led by Bill Craig, senior vice president/publishing & ministry experiences at B&H/LifeWay Christian Resources.
Elevating Voices of Color will be led by Helen Lee, IVP's Director of Product Innovation, including the Every Voice Now initiative and The Disrupters and Every Voice Now podcasts.
Elevating Customer Interest will be led by Ben Amundgaard, senior director of Bible Study Products at Faithlife, and Jesse Myers, director of original content at Faithlife and publisher of Lexham Press.
ECPA will also host the annual ECPA Awards Celebration, announcing the winners of the 2022 Christian Book Award® program, along with other industry milestones and awards.  The dinner banquet will take place the evening of Monday, May 3rd.  Latasha Morrison, bestselling author of the 2021 ECPA Christian Book of the Year "Be the Bridge" (WaterBrook), will be the keynote speaker.
On May 4, attendees will meet in the nearby headquarters of the American Bible Society, debuting their brand new Faith & Liberty Discovery Center – a "high-tech, high-touch" interactive and immersive museum guiding the visitor in a personal exploration of the relationship between faith and liberty in the American experience.
The ECPA Annual Members meeting will be held on May 4th at the conclusion of the program.
The event is open to ECPA members, with discount pricing for multiple employees and smaller companies.  Visit ECPALeadership.org for full program and speaker information and to register.  Early bird pricing ends on March 18.
---
The Evangelical Christian Publishers Association (ECPA) is an international non-profit trade organization comprised of member companies that are involved in the publishing and distribution of Christian content worldwide. Since 1974, ECPA has strengthened Christian publishing by building networking, information, and advocacy opportunities within the industry and throughout multiple channels so that our members can more effectively produce and deliver transformational Christian content. ECPA.org.
Contact: Jeff Crosby, President & CEO, jcrosby@ecpa.org, 480-966-3998 ext. 101