"Dude Perfect 101 Tricks, Tips, and Cool Stuff" debuts on NYT and Wall Street Journal lists
"DUDE PERFECT 101 TRICKS, TIPS, AND COOL STUFF" DEBUTS AT #1 ON WALL STREET JOURNAL BESTSELLER LIST IN TWO CATEGORIES THIS WEEK
Follows on heels of debut on New York Times Best Sellers List and #1 Amazon Best Seller Ranking 
Viral Sensations with 56+ Million YouTube Subscribers and Over 12 Billion Views, Continue To Gain Momentum with Top Literary Accolades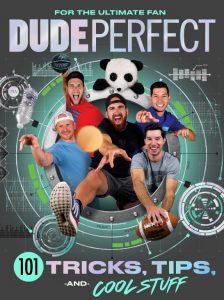 LOS ANGELES (July 7, 2021) – Dude Perfect, viral sensations with 56+ million YouTube subscribers and over 12 billion views, continue to gain momentum with their latest book,  "Dude Perfect 101 Tricks, Tips, and Cool Stuff." The title debuted at #1 in two separate categories (Hardcover Non-Fiction and Non-Fiction Combined) on the Wall Street Journal Bestsellers list this week. This recent honor follows on the heels of a number of notable literary accolades including a New York Times Best Seller List debut (#4 in Children's) and No. 1 debut week positioning on Amazon's Best Sellers List (Top 100 Books).
"We're having a blast! The response has blown us away and we are super grateful. We love to see how our fans are resonating with our book and trying out their own tricks and skills," said Dude Perfect's Cory Cotton.
Displaying never-before revealed tips and tricks through high-quality, captivating photos and Dude-worthy graphics, the book gives readers an in-depth, behind-the-scenes look into Dude Perfect's favorite stunts, stats and personal lives.
The Dude Perfect team – consisting of Coby Cotton (Twin #1), Cory Cotton (Twin #2), Garrett Hilbert (The Purple Hoser), Cody Jones (The Tall Guy), and Tyler Toney (The Bearded Guy) – first gained viral fame by posting videos of the Dudes' extraordinary basketball trick shots. Over the years, Dude Perfect has amassed a fanatical YouTube following with over 56 million subscribers and more than 12 billion views, making it one of the world's most-subscribed YouTube channels:  www.youtube.com/user/corycotton.
"Dude Perfect 101 Tricks, Tips, and Cool Stuff" is available now wherever books are sold.
For more information and assets about Dude Perfect, visit:
About Dude Perfect:
Founded in 2009, Dude Perfect is a group of five former college roommates from Texas A&M University who initially made basketball trick shots for fun. Cory Cotton, Coby Cotton, Garrett Hilbert, Cody Jones, and Tyler Toney had no idea what they were getting themselves into after that first ball swished, but they believe that nothing happens by accident and are grateful that they've had an opportunity to make an impact on the lives of countless others all around the globe. "The Dudes," who all call Texas home, have gone on to reach more than 55 million YouTube subscribers, sell out arena-events, and hold several Guinness World Records.
About Tommy Nelson:
Tommy Nelson® is the children's division of Thomas Nelson. As a leading provider of Christian content, Tommy Nelson publishes a wide variety of high quality, enjoyable products that are consistent with the teachings found in the Bible. Tommy Nelson's award-winning products are designed to expand children's imaginations and nurture their faith while inspiring them to develop a personal relationship with Jesus. For more information, visit www.tommynelson.com.
PRESS KIT AVAILABLE HERE: https://we.tl/t-oe5XA6RUdE (link expires on 7/13/21)
Contacts: 
Lesley A. Burbridge, 14 PR & Entertainment Group, lesley@14PRandEntertainment.com 310.562.0715
Tracy Cole, Rogers & Cowan PMK, tracy.cole@rogersandcowanpmk.com 615.568.2988
Natividad Lewis, HarperCollins Christian Publishing, Natividad.Lewis@harpercollins.com  931.698.9620