Dr. Tony Evans partners with LifeWay Films to bring message of true manhood to movie theaters through
Fathom Events April 29 and 30 only
New Film 'Kingdom Men Rising' Addresses God's Purpose for Masculinity; Features Tony Dungy, Kirk Franklin, Lecrae, Dallas Cowboys' Jon Kitna, Others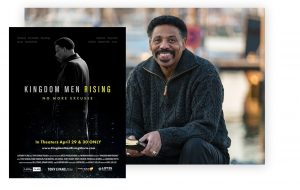 NASHVILLE, March 5, 2019 — What do Heisman Trophy-winner Tim Brown, Super Bowl-winning Coach Tony Dungy, NFL Vice President Troy Vincent, Grammy Award-winners Kirk Franklin and Lecrae, and former Dallas Cowboys quarterback Jon Kitna have in common? They are all "Kingdom" men – embracing and walking out God's true design for masculinity in a culture that seems confused about the way manhood should look. In the new film KINGDOM MEN RISING, respected pastor, author and broadcaster, Dr. Tony Evans explores the biblical intentions of masculinity and encourages believing men everywhere to take up the mantle of God's original purpose.
Presented by Tony Evans Films, LifeWay Films and Fathom Events, KINGDOM MEN RISING will release in movie theaters for two nights only, April 29 and 30.
"We as men have to understand while we're waiting on God, God's waiting on us. He's waiting on us to step up and become men of faith…who not only believe in God, but believe God. Men who act like God is telling the truth and who walk by faith not just talk by faith," said Dr. Evans. "There's a difference between being a man and being a male. You can be one without the other because you're not taking responsibility under God. So it is absolutely critical that we own this. We own the responsibility of calling a culture in decline back, calling men back."
Through the stories of the men cited above, and others, KINGDOM MEN RISING explores God's ultimate purpose for masculinity and provides an honest portrayal of today's man that is countered by God's original design.
The powerful documentary will explore what it means to be a real man in a modern age, addressing many of the unique circumstances facing men today. Drawing from his own experiences and using a biblical perspective, Dr. Evans addresses the topics of significance, priorities, race and passivity, challenging men to step more actively into their purpose – no more sitting on the sidelines, no more excuses.
"KINGDOM MEN RISING presents a unique and powerful opportunity for churches and ministries to bring men together for a life-changing experience," said LifeWay Films' Trent Myers. "Through their Fathom Affinity Network, Fathom gives churches the option to host screenings at local movie theaters or in their own churches, offering new possibilities for men's outreach that we've never seen before."
For more information on KINGDOM MEN RISING visit www.kingdommenrising.com.
For tickets visit: www.fathomevents.com/events/kingdom-men-rising.
About Dr. Tony Evans
Dr. Tony Evans is the founder and senior pastor of Oak Cliff Bible Fellowship in Dallas, founder and president of The Urban Alternative, chaplain of the NBA's Dallas Mavericks, and author of over 100 books, booklets and Bible studies. The first African American to earn a doctorate of theology from Dallas Theological Seminary, he has been named one of the 12 Most Effective Preachers in the English-Speaking World by Baylor University. Dr. Evans holds the honor of writing and publishing the first full-Bible commentary and study Bible by an African American. His radio broadcast, The Alternative with Dr. Tony Evans, can be heard on more than 1,300 US outlets daily and in more than 130 countries.  Dr. Evans launched the Tony Evans Training Center in 2017, an online learning platform providing quality seminary-style courses for a fraction of the cost to any person in any place. The goal is to increase Bible literacy not only in lay people but also in those Christian leaders who cannot afford nor find the time for formal ongoing education. For more information, visit TonyEvans.org.
About Tony Evans Films
Tony Evans Films ushers in positive life change through compelling video-shorts, animation and film. We seek to build kingdom disciples through the power of story. We use a variety of platforms for viewer consumption and have over 25,000,000 digital views. We are launching the distribution of our films through movie theaters in 2019. We also merge video-shorts and film with relevant Bible Study materials to bring people to the saving knowledge of Jesus Christ and to strengthen the body of Christ worldwide. We aim to expand viewership and participation through demonstrable market strategies. TUA's mission is to serve as a teaching, training and resource ministry in order to restore hope and transform individuals, families, churches and communities through the proclamation and application of the Word of God.
About LifeWay Films
LifeWay Christian Resources is one of the world's largest providers of Christian resources. LifeWay Films exist to empower churches and Christians to engage faith-based films as a tool for discipleship and growing in their faith.
About Fathom Events
Fathom Events is the leading event cinema distributor with theater locations in all top 100 DMAs® (Designated Market Areas) and ranks as one of the largest overall theater content distributors. Owned by AMC Entertainment Inc. (NYSE: AMC); Cinemark Holdings, Inc. (NYSE: CNK); and Regal Cinemas, a subsidiary of the Cineworld Group (LSE: CINE.L), Fathom Events offers a variety of unique entertainment events in movie theaters such as live performances of the Metropolitan Opera, top Broadway stage productions, major sporting events, epic concerts, the yearlong TCM Big Screen Classics series, inspirational events and popular anime franchises. Fathom Events takes audiences behind the scenes for unique extras including audience Q&As, backstage footage and interviews with cast and crew, creating the ultimate VIP experience. Fathom Events' live Digital Broadcast Network ("DBN") is the largest cinema broadcast network in North America, bringing live and pre-recorded events to 975 locations and 1,578 screens in 181 DMAs. The company also provides corporations a compelling national footprint for hosting employee meetings, customer rewards events and new product launches. For more information, visit www.FathomEvents.com.
CONTACTS:
Jennifer Willingham, Icon Media Group, 615-483-4729, Jennifer@iconmediagroup.com;
Trent Myers LifeWay Films, 615-251-3696, trent.myers@lifeway.com;
Jessica Nelson, 720-262-2753, jnelson@fathomevents.com; Katherine Schwappach, 720-262-2713, kschwappach@fathomevents.com; both with Fathom Events