Donald Miller to keynote ECPA PubU 2018
PubU to be held in Nashville on November 6-7 at Lipscomb University for publishing practitioners
Event will feature session tracks in editorial, marketing, design, rights, production, data, reader engagement, and more
TEMPE, ARIZ., April 25, 2018 – ECPA announces the 2018 program for the industry's annual Publishing University, known as PubU.  The premiere training and networking event for Christian publishing professionals will be held November 6-7, 2018 at Lipscomb University in Nashville, Tennessee, and will feature New York Times bestselling author and StoryBrand CEO DONALD MILLER.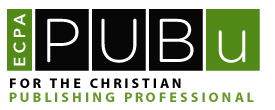 "PubU continues to build into a don't-miss event for publishing professionals in our industry," explains ECPA executive director Stan Jantz.
"Thanks to the industry leaders who design the program each year, the sessions are packed with practical and innovative content. Having Donald Miller as our closing keynote speaker, we are confident that PubU 2018 will bring incredible value and creative capital to every publishing professional who attends."
B&H Publishing Group VP of Marketing Dave Schroeder will lead the PubU "Brain Trust," the committee of publishing leaders who are charged with developing relevant and timely workshops in editorial, marketing/sales, publicity, design, rights, reader engagement, and data/delivery/workflow.  So far, the 2018 PubU Brain Trust includes:
Dave Shroeder, VP of Marketing, B&H Publishing Group
Melinda Bouma, Publisher, Zondervan Bibles
Josh Dennis, Executive VP/Creative, Crossway
Kristen McLean, Executive Director of Business Development, NPD Books
George Roach, International Rights Manager, Tyndale House Publishers
Joshua Tallent, Director of Outreach & Education, Firebrand Technologies
"Last year at PubU, we achieved historic attendance from our ECPA members and have accepted the challenge to continue growing the event this year," states Schroeder.
"We are very encouraged to have Donald Miller join us to share StoryBrand. Many in our industry have been influenced by Don's words through Blue Like Jazz or A Million Miles in a Thousand Years. His latest is a challenge to all of us in the industry to grow in the way we tell our story. We look forward to gathering the current and future leaders in our industry at Lipscomb University in November."
PubU's closing session with Donald Miller on November 7 will be the opening session for The Art of Writing seminars, an afternoon of workshops for content creators and storytellers.  That event will be followed by The Christy Award™ Christian Fiction Gala held that evening to announce the winners of the 2018 Christy Awards.  Already signed to participate are bestselling authors Francine Rivers, Charles Martin, and Carla Laureano.
Early-bird registration for PubU will open soon.  To be notified of program updates, registration discounts, and the industry's Emerging Leader scholarships available, sign up for updates at ECPAPubU.org.
Donald Miller is a New York Times bestselling author and the CEO of StoryBrand.  Every year, he helps more than 3,000 business leaders clarify their brand message and is widely considered one of the most entertaining and informative speakers in the world. His audiences are challenged to lean into their own story, creatively develop and execute the story of their team, and understand the story of their customers so they can serve them with passion. Don's thoughts on story have deeply influenced leaders and teams for Pantene, Chick-fil-A, Steelcase, Intel, Prime Lending, Zaxby's, and thousands more.  Combined, Don's books have spent more than a year on the New York Times Bestsellers list. His books include: Blue Like Jazz, A Million Miles in a Thousand Years, Scary Close, and his most recent title, Building a StoryBrand: Clarify Your Message So Customers Will Listen (HarperCollins Leadership). He co-wrote the major motion picture "Blue Like Jazz" which debuted at the SXSW Film Festival and was listed as one of the top four movies to get you through freshman year by USA Today. He has served on The Presidential Task Force for Fatherhood and Healthy Families, a joint effort between government and the private sector to rewrite the story of fatherlessness in America.
The Evangelical Christian Publishers Association (ECPA) is an international non-profit trade organization comprised of member companies that are involved in the publishing and distribution of Christian content worldwide. Since 1974, ECPA has strengthened Christian publishing by building networking, information, and advocacy opportunities within the industry and throughout multiple channels so that our members can more effectively produce and deliver transformational Christian content. For more information about ECPA: info@ecpa.org  ECPA.org  @ECPA
Media contact:
Stan Jantz, ECPA executive director, sjantz@ecpa.org  480-966-3998