Dive into the most significant archaeological discoveries pertaining to every book of the Bible
Includes the latest photos and information, from a co-director of the new Operation Scroll Project, which discovered the first new Dead Sea Scroll cave in over 60 years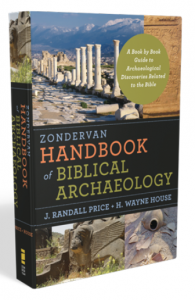 Grand Rapids, Mich., Nov. 28, 2017 — Zondervan is pleased to announce the release of the Zondervan Handbook of Biblical Archaeology by Randall Price, who is co-director of the new Operation Scroll Project, which in 2017 discovered the first new Dead Sea Scroll cave (Qumran Cave 53) in over 60 years.Price directed excavations on the Qumran Plateau from 2002-2012. He is distinguished research professor of biblical and Judaic studies in the School of Divinity at Liberty University and has taught biblical archaeology since 2007.
For laypersons, pastors, students, academics, and anyone looking for a current and comprehensive biblical archaeology resource, the Zondervan Handbook of Biblical Archaeology provides a wealth of information that supplements the historical context of the Bible.
The Zondervan Handbook of Biblical Archaeology is illustrated with full-color photos, charts, and maps, and follows each book of the Bible, investigating the most significant discoveries that enhance understanding of the biblical text.
The handbook includes an introductory section on the field of archaeology, highlighting methods, practices, and the importance of biblical archaeology to biblical studies. A robust glossary, detailed maps, and a bibliography support the rich content of the handbook. An array of visual features including aerial photos of excavations sites, artifacts, and sidebars allows readers to immerse themselves in the world of the Bible—its ancient sites and historical places—while remaining in the comfort of their own homes.
To learn more, visit www.ZAarchaeology.com. For interviews and to request review copies, contact Trinity McFadden at trinity.mcfadden@harpercollins.com.
Zondervan is a world leading Bible publisher and provider of Christian communications.  Zondervan, part of HarperCollins Christian Publishing, Inc., delivers transformational Christian experiences through its bestselling Bibles, books, curriculum, academic resources and digital products. The Company's products are sold worldwide and translated into nearly 200 languages. Zondervan offices are located in Grand Rapids, Mich. For additional information, please visit www.zondervan.com.