Discovery House honors Oswald Chambers with release of several new titles
A Legacy of Devotion: Celebrating the Remarkable Life of Oswald Chambers, author of My Utmost for His Highest
One remarkable life.
One untimely death.
One small book.
Still changing lives.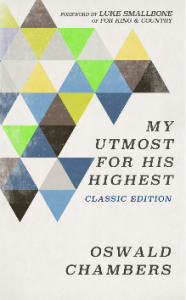 GRAND RAPIDS, Mich., August 4, 2017—Discovery House, the exclusive North American publisher of My Utmost for His Highest by Oswald Chambers, is celebrating the life of Chambers and his century-long legacy with the release of several new titles this fall, as well as limited editions of his most-loved work.
Chambers's timeless devotional My Utmost for His Highest, in both its beloved classic edition and its updated-language version, still unpacks deep Biblical truths and shapes the faith of countless readers, just as it has done over decades of publication. Each of these Limited Editions is available in October 2017.
With a new foreword written by Luke Smallbone of popular Christian band For King and Country, these special editions honor Chambers's life and inspirational meditations on Scripture, faith, and each individual's walk with God.
Additionally, Word Records, along with Discovery House, presents an extraordinary musical expression of worship and devotion to accompany Chambers's beloved devotional. Join some of Christian music's most prominent recording artists, including For King and Country, Blanca, Big Daddy Weave, and others in this collection of new songs inspired by My Utmost for His Highest. (Available through Word Records.)
Released alongside the My Utmost for His Highest limited editions will be Utmost Ongoing: Reflections on the Legacy of Oswald Chambers, a collection of testimonials by a diverse group of Christ followers and Chambers fans. The popular devotional has been instrumental in the development of Christians, young and old, for generations. Utmost Ongoing offers contemporary Christian figures the opportunity to share the immense impact of Chambers's work on their walk with Christ, finding their calling, and answering God's prompting in their daily lives.
From renowned author, singer, artist, and radio personality Joni Erickson Tada to 9/11 Pentagon survivor Alan Personius Utmost Ongoing contributors' pieces focus on a quote from Chambers's devotional, highlighting their personal insights and stories in relation to the beloved classic. The book illustrates the powerful, life-altering effect of Oswald Chambers's timeless wisdom.
Following these releases, author Paul Kent outlines the remarkable story of Oswald Chambers in his work, Oswald Chambers: A Life in Pictures. The keepsake coffee table book, available in November, is the perfect companion to Chambers's My Utmost for His Highest, highlighting photographs of the most influential figures in his life, as well as excerpts from his personal letters and his books.
This pictorial chronicle follows Chambers through his life, from his childhood and educational experiences to his travels and the ministry of his adult years.
My Utmost for His Highest, Classic Limited Edition 
978-1627077408
Paperback
$9.99
Release: October 2017
My Utmost for His Highest, Updated Limited Edition
978-1627077354
Paperback
$9.99
Release: October 2017
Utmost Ongoing: Reflections on the Legacy of Oswald Chambers
978-1627076791
Paperback
$14.99
Release: October 2017
Oswald Chambers: A Life in Pictures
Paul Kent
978-1627077330
Hardcover
$24.99
Release: November 2017
Contact:  Karen Campbell Media, Inc.  616-309-4390  www.karencampbellmedia.com