DiAnn Mills to donate royalties from e-book series to Sudanese nonprofit organization, Every Village
Set to release as an e-book in June 2020, Where Tomorrow Leads is the second in Mills's updated Hope of Sudan series, after Long Walk Home.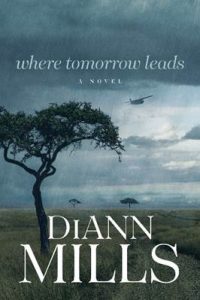 CAROL STREAM, ILL. (June 2, 2020)—Bestselling author DiAnn Mills has chosen to donate all royalties from her Hope of Sudan e-book series to Every Village, a 501(c)(3) organization that distributes solar-powered, handheld radios to Sudanese communities. Where Tomorrow Leads, book two of the series, will release as an e-book from Tyndale House Publishers on June 9, 2020.
DiAnn has a heart for the people of South Sudan, where illiteracy is rampant and many are unable to read the Bible. By donating the author royalties from the sale of this series, Mills hopes to partner with Every Village's radio network in reaching the Sudanese people with both the gospel and community development teaching—broadcasting Bible stories, health and hygiene training, news, and educational programming in local languages.
Where Tomorrow Leads is recommended for fans of clean romantic suspense with an international setting. It follows the story of Paul Farid, a man who was once a member of the royal family in Sudan but now carries a price on his head for becoming a Christian. Paul risks his life nearly daily to aid his persecuted countrymen but worries that his sometimes-reckless actions may bring harm to his wife, Larson, and their unborn child. Meanwhile, after fighting more than two decades against the Sudanese government's mandates, Colonel Ben Alier is wary of the fledgling peace treaty meant to unite the north and south again. The days ahead hold no promise of peace, so Paul, Larson, and Ben must learn to trust God in all things, no matter where tomorrow leads.
To learn more about the Hope of Sudan series, visit https://diannmills.com/series/hope-of-sudan/. Readers can also access a prayer guide for Where Tomorrow Leads here. 
Where Tomorrow Leads by DiAnn Mills
e-book release: June 9, 2020
ISBN 978-1-4964-3322-0 | ePub
Tyndale House Publishers | tyndale.com
DiAnn Mills is a bestselling author who believes her readers should expect an adventure. She creates action-packed, suspense-filled novels to thrill readers. Her titles have appeared on the CBA and ECPA bestseller lists; won two Christy Awards; and been finalists for the RITA, Daphne du Maurier, Inspirational Reader's Choice, and Carol Award contests. Firewall, the first book in her FBI: Houston series, was listed by Library Journal as one of the best Christian fiction books of 2014. Connect with DiAnn at diannmills.com.
Since its founding in 1962, Tyndale House Publishers has been a voice to trust for generations of readers. Today, Tyndale is one of the largest independent Christian publishers in the world. Tyndale's mission is to make the Bible accessible to as many people as possible in language that they can relate and respond to. Tyndale publishes the Holy Bible, New Living Translation (NLT) and offers nonfiction books that equip readers with Christ-centered insight, counsel, and life-improving stories. In addition, Tyndale publishes fiction from fresh new voices and celebrated authors alike, capturing the imagination of millions of readers. With a deep understanding of the importance of nurturing future generations, Tyndale also publishes children's products that make God's Word and wisdom come alive. Tyndale's independent status allows it to follow its founding model, giving a majority of annual revenue—more than $100 million throughout its history—to charitable missions. With every book purchased, Tyndale readers help meet the physical and spiritual needs of people around the world.