DaySpring celebrates multiple titles achieving milestone sales awards from ECPA
SILOAM SPRINGS, Ark., June 29, 2022 — DaySpring, the world's largest Christian social expression company and a subsidiary of Hallmark, celebrates four book titles reaching 100,000 in sales and is being recognized by the Evangelical Christian Publishers Association (ECPA) with four Bronze Milestone Sales Awards.
The DaySpring books being honored by the ECPA include the One Step Closer Bible in partnership with Candace Cameron Bure, 100 Days of Bible Promises by Shanna Noel, 100 Days of Believing Bigger by Marshawn Evans Daniels, and the DaySpring devotional gift book Sweet Tea for the Soul.
DaySpring's President James Barnett expressed his excitement at receiving these prestigious awards following the recent addition of more traditional style books to their product line.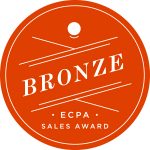 "It was just over four years ago that DaySpring intensified our publishing business, so to have multiple titles reach this 100,000 unit sales level is a real testament to the great internal team we have and the amazing authors who have partnered with us," says Barnett. "In addition to the significant sales achievement, the Biblical message in each of our products is very important to us. We are grateful and encouraged that this publishing achievement means the Gospel is being proclaimed in significant ways."
Barnett joined DaySpring in 1981, holding key positions in sales and marketing before becoming its leader in 1994. During his tenure, he has led the growth of the DaySpring organization from a small partnership to a thriving multi-national corporation. Today, DaySpring offers more than 6,000 products—from greeting cards to home décor, specialty gifts to devotional and gift books.
"Marshawn, Candace, and Shanna are important members of our DaySpring family," continued Barnett, "and we are pleased for them. The messages in their books are very impactful to our consumers."
About DaySpring:
DaySpring®, the world's largest Christian-message product provider, was founded in 1971 with a single Christmas card. Today DaySpring offers more than 6,000 products—from greeting cards to home décor, specialty gifts to devotional books. In 1999, DaySpring was acquired by Hallmark Cards, Inc. DaySpring products are sold in Christian retail outlets, mass retail stores, card and gift shops and other outlets in the United States and 60 foreign countries. DaySpring is based in Siloam Springs, Ark., and employs a staff of more than 220 people. Visit www.dayspring.com for more information about the company, to find a local retailer, and to send a free e-card.
About Evangelical Christian Publishers Association (ECPA):
The Evangelical Christian Publishers Association (ECPA) is an international non-profit trade organization comprised of member companies that are involved in the publishing and distribution of Christian content worldwide. Since 1974, ECPA has strengthened Christian publishing by building networking, information, and advocacy opportunities within the industry and throughout multiple channels so that our members can more effectively produce and deliver transformational Christian content. Through this growing network of people and organizations, ECPA serves as a focal point of thought and activity for evangelical publishers throughout the world. Though our publishers are by their nature competitors, they share a common vision to produce Christian content to a world in need.