DaySpring announces licensing agreement
with Candace Cameron Bure
Christian Card and Gift Company Signs Agreement with Best-Selling Author and Actor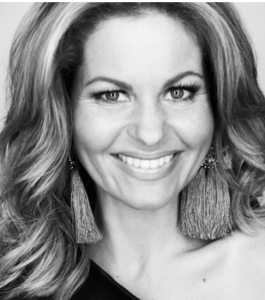 SILOAM SPRINGS, Arkansas—May 4, 2018—DaySpring Cards, Inc., a Northwest Arkansas-based company specializing in Christian cards and specialty products, announces a new multi-year licensing partnership with actor, New York Times Best-Selling author, Emmy nominee, producer, philanthropist, wife and mother, Candace Cameron Bure (Netflix's "Fuller House").
"Candace has a huge presence in the faith and family marketplace and touches so many hearts with her acting, writing and speaking," said James Barnett, president of DaySpring. "We are thrilled to have her on board and to work with her in developing products to further share her message, especially with the modern Christian woman. We feel strongly that our alignment with Candace gives us a powerful voice to make those connections with our consumers, while bringing them quality products and tools to express their faith."
"My faith is a cornerstone of my life," said Candace. "As I continue to grow as an actor, producer and author, I have always wanted to be able to reach out to a broader community to share with them tools and platforms that support and expand our objective of celebrating those messages in today's ever challenging world."
The product line with DaySpring—dayspring.com/candace–will include multi-category, faith based product formats focused on providing consumers with products that will help them live and express their faith, as well as represent their interest in the strong family values Candace shares with them.
Principals of Candace's management company, Redrock Entertainment, Jeffery Brooks and Ford Englerth, in conjunction with industry veteran Harold Weitzberg, developed and coordinated the agreement with the DaySpring executive licensing team.
DaySpring, a subsidiary of Hallmark Cards, has served the Christian marketplace for 47 years, creating greeting cards, gifts, home décor, clothing, accessories, journals, devotional books and Bible. Supported by key retail placements and digital promotion, DaySpring plans to have a limited selection of products available by late this month to coincide with the release of Candace's new book from Zondervan, Kind Is the New Classy. Additional product programs are being introduced for the fourth quarter of 2018 and 2019.
About Candace Cameron Bure:
Candace Camerson Bure lights up the entertainment industry as a role model to women of all ages, reaching millions of fans. She is an award-winning actress and producer, New York Times Best- Selling Author, wife, and mother of three.  Viewers watched Candace grow up as 'D.J. Tanner' in the beloved television series "Full House." Today, Candace performs as the lead in the soon to be released fourth season of Netflix's original comedy series "Fuller House," where she reprises her role as D. J. Tanner.  Candace handled co-host duties for two seasons on ABC Network's long-time running talk show "The View." Candace and her co-hosts were nominated for a Daytime Emmy Award and the show itself also received yet another nomination for Outstanding Talk Show.  Candace executive produces and stars in her highly successful, hit mystery movie series AURORA TEAGARDEN on Hallmark Movies & Mysteries. The series is based on the books by New York Times Best-Selling Author Charlaine Harris.Many Christians have a difficult time reconciling gambling with their faith. While the Catholic Church has long supported small amounts of betting as a harmless social activity, many mainline denominations have opposed legalizing the practice on a large scale. Most evangelicals, on the other hand, oppose any form of gambling such as sbobet indonesia. So, how can a Christian balance gambling with his faith? In this article, we'll look at the pros and cons of gambling and how it affects the Christian faith.
Candace is currently anticipating the April release of her fifth book, Kind is the New Classy: The Power of Living Graciously. In November of 2017, she released her fourth book, Staying Stylish: Cultivating a Confident Look, Style, and Attitude.Candace and her husband, former NHL star Valeri Bure, have been happily married for 22 years and together with their three children, Natasha, Lev and Maksim, they split their time between Los Angeles and Napa Valley, California, which is home to their highly rated boutique wine label, Bure Family Wines.
About Redrock Entertainment:
Redrock Entertainment Services is a multi-purpose end-to-end entertainment management and production company made up of award winning creatives and event project producers with over 25 years of experience managing iconic artist talent, creating unique brand content and producing large-scale, global live events. For additional information, visit www.redrockla.com.
About DaySpring:
DaySpring®, the world's largest Christian-message product provider, was founded in 1971 with a single Christmas card. Today DaySpring offers more than 6,000 products—from greeting cards to home décor, specialty gifts to devotional books. In 1999, DaySpring was acquired by Hallmark Cards, Inc. DaySpring products are sold in Christian retail outlets, mass retail stores, card and gift shops and other outlets in the United States and 60 foreign countries. DaySpring is based in Siloam Springs, Ark., and employs a staff of more than 280 people. Visit www.dayspring.com for more information about the company, to find a local retailer, and to send a free e-card.
For information:  Brenda Turner 1-800-944-3430 ext. 6571  bturner@dayspring.com