David C Cook introduces Esther Press
NEW IMPRINT WILL FOCUS ON NONFICTION TITLES BY AND FOR COURAGEOUS WOMEN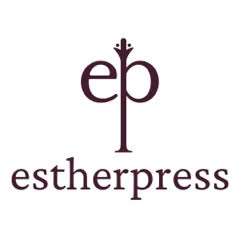 COLORADO SPRINGS, CO (March 25, 2022) – David C Cook has announced a new imprint, Esther Press, which will publish diverse voices that encourage and equip women to walk courageously in the light of God's truth. A portion of Esther Press sales will be invested in women's ministry partnerships around the globe. Susan McPherson, who leads the new imprint, has already acquired three titles set to release in 2022 with nine more titles lined up for 2023.
David C Cook CEO John Aden says: "David C Cook wants to empower women to flourish as confident disciples of Jesus and leaders in their communities. I am so excited to introduce Esther Press, which will amplify women's voices while offering a foundation of faith deeply rooted in God's Word."
"For years, I have dreamed of establishing a line of books and resources laser-focused on encouraging and equipping women to be committed disciples of Jesus who are eager to serve others in their homes, churches, and communities." says Susan McPherson, Acqusitions Editor and Women's Community Lead for David C Cook. "Esther Press is that dream realized."
Esther Press has announced three new titles for release in fall 2022:

Stand in Confidence by Amanda Pittman (September)
Amanda is is a proud wife and mother of two, author, ministry leader, speaker, and entrepreneur. She is founder of Confident Woman Co., a ministry that uses online challenges, groups, live events, & more to equip women to stand confidently upon the finished work of Jesus. Amanda will keynote at 2022 She Speaks Conference. ConfidentWomanCo.com  IG: @amandapittman  Podcast: Confident Woman

Take Back Your Joy by Nicole Jacobsmeyer (October)
Nicole has a passion for helping women walk in victory, joy, and faith in the face of trials, sorrow, and suffering. Nicole and her husband have four children and reside in North Carolina. Nicole spends her spare time sharing her faith and encouraging women on her blog, podcast and lifestyle website.
NicoleJacobsmeyer.com  IG: @nicole.jacobsmeyer  Podcast: Embracing Chaos

Follow God's Will by Brittany Ann (October)
Brittany is a bestselling author, speaker, and founder of a popular Christian living website which has been featured by CBN, Christian Post, Crosswalk, and more. Brittany is married to a godly husband, and together they have three adorably energetic children. EquippingGodlyWomen.com  IG: equippinggodlywomen    Podcast: Equipping Godly Women
In 2023, Esther Press will publish new works from popular speakers and authors including:
Lisa Whittle
Lina Abujamra
Rebecca Dotson George
Rachael Gilbert
Laura Krokos
Erica Renaud
Katy McCown
Natalie Runion
Cynthia Yanof
Esther Press is an imprint of David C Cook which publishes biblical resources by and for courageous women. With a focus on transformation, Esther Press encourages and equips women to walk courageously in the light of God's truth for such a time as this. Esther Press partners with ministries around the world to equip, encourage, and disciple women. Esther Press – David C Cook
David C Cook is a 501c3 nonprofit organization dedicated to equipping the global church with leadership, discipleship, and worship resources to help Christians grow in faith and pass it along to the next generation. To find out more about David C Cook and global ministry outreach, please visit www.davidccook.org.