Crossway celebrates two 2018 Christian
Book Award® winners
WHEATON, Ill.—Crossway is pleased to announce that both Finding Grace in the Face of Dementia (Crossway, July 2017) by John Dunlop, MD and Uncomfortable: The Awkward and Essential Challenge of Christian Community (Crossway, September 2017) by Brett McCracken have won 2018 Evangelical Christian Publishers Association (ECPA) Christian Book Awards.
According to the ECPA's website, the Christian Book Award program "recognizes the highest quality in Christian books and Bibles and is among the oldest and most prestigious awards programs in the religious publishing industry."
Awards are offered in the following 11 categories:
• Bibles
• Bible Reference Works
• Bible Study
• Ministry Resources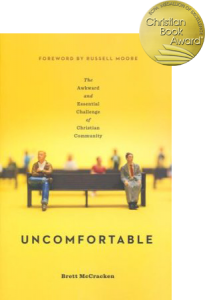 • Biography & Memoir
• Christian Living
• Faith & Culture
• Devotion & Gift
• Children (Ages 0–8)
• Young People's Literature (Nonfiction)
• New Author
Uncomfortable tied for the award in the Christian Living category. In this book, McCracken makes a compelling case that following Jesus and being part of his church is not about seeking our own comfort, but rather that we are called to embrace the more difficult aspects of Christianity in the context of the local church.
Finding Grace in the Face of Dementia, winner in the Faith & Culture category, calls Christians to respond to dementia in a way that offers the best care to patients, honors the inherent dignity of all people, and brings glory to God.
"It is a great encouragement to us that books of this caliber, grounded in deep theology but made accessible and practical for the good of the church, would be recognized in this way," says Justin Taylor, Executive Vice President of Book Publishing, Book Publisher for Crossway. "We are delighted to work with Brett and John and honored to publish these books."
John Dunlop (MD, Johns Hopkins University School of Medicine) has practiced medicine in Zion, Illinois, for thirty-seven years and currently works with the geriatrics group associated with Yale Medical School. He is board certified in geriatrics and has a master's degree in bioethics from Trinity International University, where he serves on the adjunct faculty.
Brett McCracken is a senior editor at the Gospel Coalition and author of Uncomfortable; Gray Matters; and Hipster Christianity. Brett and his wife, Kira, live in Santa Ana, California. They belong to Southlands Church, where Brett serves as an elder.
Founded in 1938, Crossway is a not-for-profit global Christian publishing ministry that publishes gospel-centered, Bible-centered content, to honor our Savior and serve his Church. Crossway seeks to help people understand the all-encompassing implications of the gospel and the truth of God's Word—for all of life, for all eternity, and for the glory of God alone. Crossway is the global publisher of the ESV® (English Standard Version®) Bible, more than 1,000 Christian books, and an extensive list of gospel literature. For additional information, visit crossway.org.
Finding Grace in the Face of Dementia by John Dunlop, MD
Available from Crossway Christian Ministry/Counseling & Recovery (REL050000)
ISBN 978-1-4335-5209-0 5.5″ x 8.5″
Paperback $18.99 • 208 pp. Publication Date: July 31, 2017
Uncomfortable: The Awkward and Essential Challenge of Christian Community by Brett McCracken
Available from Crossway RELIGION / Christian Life / General (REL012000)
ISBN: 978-1-4335-5425-4 5.5″ x 8.5″
Paperback $15.99 • 224 pp. Publication Date: September 30, 2017