COMPEL's Direct Access Writer's Book Club features Leafwood author Felicia Harris
COMPEL Direct Access launches Monday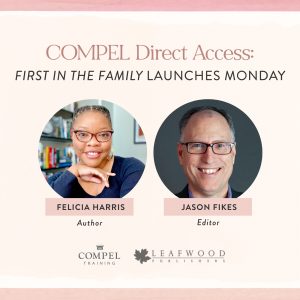 This Fall's COMPEL training Direct Access study will feature Felicia Harris' newly released book, First in the Family: Biblical Truths for Cycle Breakers (Leafwood Publishers). 
Direct Access is a unique online experience providing a behind-the-scenes look at the writing, editing, and publishing process of newly released Christian living titles. For this study, Felicia will join her editor, Jason Fikes from Leafwood Publishers. Together, they will explore the message of First in the Family, showing how authors can improve their writing and incorporate Scripture into their own stories. They will also discuss topics like platform building and time management as an author.
Participants in the study will see how Felicia shares her complex story of trauma and family suffering alongside profound Scriptural truth. Having lived with the immense weight of family secrets, influences, and imperfections, she shows readers the steps they can take to become cycle breakers—those who refuse to be held bound by the way things have always been.
For more details and to access the study, visit the COMPEL book club website.
About COMPEL and Leafwood Publishers
COMPEL training is a ministry of Proverbs 31 Ministries and is a simple starting place that encourages female writers through community, writing challenges, and online courses.
Leafwood Publishers is an imprint of Abilene Christian University Press and inspires fresh and deep conversations about faith and life, one book at a time.