Co-creator of VeggieTales to publish new children's
book series with Tyndale Kids
Mike Nawrocki returns with comical and character-building stories for a new generation with The Dead Sea Squirrels series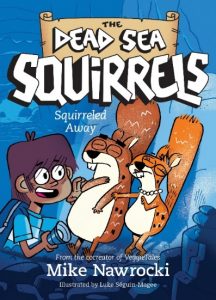 Carol Stream, Ill. (March 6, 2019)— Mike Nawrocki, co-founder of Big Idea Entertainment and voice of the beloved Larry the Cucumber, has written the first two installments of The Dead Sea Squirrels, a series of first chapter books intended for ages 6–10. Squirreled Away and Boy Meets Squirrels are scheduled for release on May 7, 2019.
The series opens with Squirreled Away, in which ten-year-old Michael Gomez sneaks into the Dead Sea caves near the archeological dig where his dad is working. There, Michael discovers two 2,000-year-old squirrels petrified in salt. Hijinks ensue as Michael tries to bring them back to the U.S., hidden in his backpack. Kirkus Reviews noted that, "there is plenty of humor to tickle young readers, and the target audience will undoubtedly laugh out loud. . . . Fans of such characters as Big Nate and Stink will likely enjoy the silly humor and adventures in this series opener, while many of their caregivers will appreciate the character-building lessons."
In the second book of the series, Boy Meets Squirrels, Michael discovers his "souvenirs" are alive. Michael learns that Merle and Pearl Squirrel lived at the same time as Jesus—and they have great stories and lessons to share in their own hilarious way. The squirrels even help Michael and his friends confront a bully. Further installments in the series will continue to intertwine humor and biblical lessons alongside comic-book style illustrations.
Regarding this acquisition, associate publisher Linda Howard said, "I am thrilled and honored to have the opportunity to work on this series with Mike. His sense of humor and engaging storytelling will have kids learning great life lessons and laughing through every minute of it."
Mike Nawrocki has been dedicated to helping parents pass on biblical values to their kids through storytelling for over two decades. Mike currently serves as assistant professor of film and animation at Lipscomb University in Nashville, Tennessee, and makes his home in nearby Franklin with his wife, Lisa, and their two children. The Dead Sea Squirrels is Mike's first children's book series.
Squirreled Away and Boy Meets Squirrels by Mike Nawrocki
ISBN: 978-1-4964-3498-2, 978-1-4964-3502-6
Softcover $6.99 each
May 2019
Tyndale.com
Tyndale House Publishers, founded in 1962, is the world's largest privately held Christian publisher of books, Bibles, and digital media. Tyndale has published many New York Times bestsellers. The largest portion of its profit goes to the nonprofit Tyndale House Foundation, which makes grants to help meet the physical and spiritual needs of people around the world. Tyndale was founded to publish Living Letters, which later comprised part of The Living Bible, a contemporary paraphrase of the Bible that became a global publishing phenomenon. Tyndale now publishes the Holy Bible, New Living Translation (NLT), the translation of choice for millions of people.