CLC International, B&H, Riggins Rights Management, and others cooperate to provide books for Ukrainian refugees
CLC International has a presence in 43 countries with bookshops and publishing houses, including Hungary, Poland, and Romania. With the influx of Ukrainian refugees to these countries, CLC felt led to minister to the refugees with books. Their heart is to get excellent quality books and Bibles into the hands of the refugees, including the children. They began consulting with their licensing partners, like Riggins Rights Management and Josh McDowell Ministries, for suitable titles.
Nadiyka Gerbish, European and Nordic Rights Director for Riggins Rights Management, provided a list of several Ukrainian books licensed as potential ministry projects for CLC. Nadiyka lives in Ukraine and has fled to Poland, so she understands the refugee situation and publishing.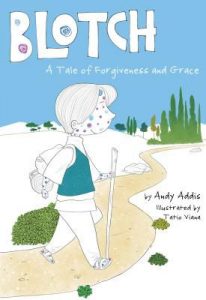 Blotch, a Tale of Forgiveness and Grace by Andy Addis and Illustrated by Tatio Viana (B&H Publishing Group) was on the list. CLC had already licensed a few languages of this delightful parable for children that teaches the gospel story. It was selected as one of the first titles to print. B&H agreed to waive all royalties for the book to be distributed free for ministry purposes to the refugees. In cooperation with Levit Publishers, the Ukrainian licensee of the book, CLC became a co-edition partner and will print 15,000 copies.
Their other priorities for CLC are to print 100,000 copies of the Gospel of John, 60,000 copies of More than a Carpenter by Josh McDowell, and 10,000 copies of a bilingual Ukrainian-Polish Bible for Children.  CLC was also able to bring more than 5,400 children's Bibles for different ages across the border into Poland to distribute through partnering churches and Christian organizations.
They also plan to publish My Name is Miriam by Nadiyka Gerbish (Vivat Publishers), as Nadiyka is also a best-selling Ukrainian author. It's a book about a Middle Eastern girl, Miriam, who becomes a refugee in a European country. At Christmastime, she learns a story of another refugee child, Isa, whose mother's name is just like her own, Miriam. (Isa in Middle Eastern pronunciation stands for Jesus, and Miriam – for Mary).
Riggins Rights Management is also working with another publisher to provide New Growth Press counseling mini-books in Ukrainian and Polish on grief, suffering, anxiety, and other emotional and spiritual issues.
Will you join us in this vital ministry?
Since all these projects are ministry-driven, not commercial, CLC receives donations through their USA office. All gifts are tax-deductible. There are two ways to donate to CLC's efforts:
Send a check to "CLC Ministries International" and include a note saying, "for Ukrainian Publishing Project." Mail the check to CLC Ministries International, Box 1449, Fort Washington, PA 19034.
Make the payment online for the Ukraine Project at: https://clcusa.org/urgent-need-for-ukrainian-refugees/
Riggins Rights Management continues its GoFundMe campaign for the emotional, physical, and spiritual needs of Ukrainian refugees.  Some of the funds collected will support these publishing projects in cooperation with CLC and other publishers. https://www.gofundme.com/manage/Help-Ukraine-Refugees-in-Ukraine.
For further information, contact:
Gary Chamberlin, International Director, CLC International, gbchamberlin@gmail.com
Cindy Riggins, President, Riggins Rights Management, cindy@rigginsrights.com