Christian retail veteran to release new title offering hope in times of uncertainty
Defy Your Diagnosis! Overcome Any Obstacle with the FIT Life Formula by Lorraine Bossé-Smith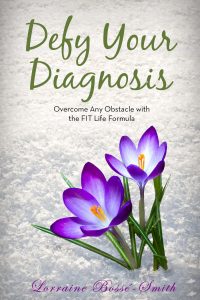 PHOENIX– April 6, 2020—While many book releases are being postponed during the Covid-19 crisis, author and Christian retail industry veteran and business coach Lorraine Bossé-Smith is taking the opposite approach, releasing her latest book tomorrow because it offers hope and practical steps for moving forward despite the challenges.
In production long before the current crisis, she said she moved on with the release because of the help she's seen the principles provide clients in her own practice who feel overwhelmed and beaten down by life's problems. In Defy Your Diagnosis! Overcome Any Obstacle with the FIT Life Formula, Bossé-Smith shares scriptural encouragement and wisdom drawn from her own shattering life experiences. Those experiences led her to create tips, tools and strategies for how to face problems in life, not only medical diagnoses but also damaging personal, emotional and professional ones.
A resident of Phoenix, Bossé-Smith previously worked for CBA and Focus on the Family Publishing before starting her own firm as a business, life and fitness coach and speaker. This is her ninth book.
The book weaves her own story into teaching practical principles of her FIT Life Formula: Foundation in Faith, Insights in Self-Improvement, and Tackling the Tough Stuff.
In the book we find these words: "Once again, we are facing yet another difficult time, and I know this is my opportunity to apply my own FIT Life principles and affirm my resolve and renew my faith. My prayer has been to have peace through the storm, keep my eyes up while in the valley, and trust God for our future.
"Wherever you are in life, trials will come. What I can promise you is this:  God is WAY bigger than anything tossed at us. His strength is sufficient, and I can personally attest to that. It is real."
Defy Your Diagnosis! Overcome Any Obstacle with the FIT Life Formula [ISBN: 978-1-950892-29-7, $15.99, trade paper], releases tomorrow, April 7, from Clovercroft Publishing, an imprint of Christian Book Services, Nashville, which also operates Carpenter's Son Publishing. The books are distributed through Ingram.
For more information about Lorraine Bossé-Smith and her business, visit https://www.lorrainebosse-smith.com/.
For a review copy or to interview her, contact Joni Sullivan Baker, Buoyancy PR, at 513/319-3231 or jbaker@buoyancypr.com.