Christian Publishing and Racial Justice webinar presented last week to "packed" virtual audience
ECPA hosted its fifth Virtual Summit Series webinar last week on "Christian Publishing and Racial Justice" with a record number of registrants. "It was my privilege to moderate a dynamic conversation with some of the most influential publishers and writers giving voice to this issue," stated ECPA president Stan Jantz.  Panelists included:
Trillia Newbell, acquisitions editor for Moody Publishers and the author of several books, who emphasized the need to identify and publish writers of color who will write books on a variety of topics, including race.
Ed Gilbreath, executive editor at InterVarsity Press, who shared the challenges people of color face as they try to fit into the cultures of mostly-white Christian organizations. He stressed the need for mentorship.
LaDonna Boyd, the fifth-generation president of R.H. Boyd Publishing Corporation, suggested taking a broad approach to your publishing program from authors of color.
Skot Welch, CEO of Global Bridgebuilders, reminded us that "diversity is a God-given mandate."
Jeff Crosby, publisher of InterVarsity Press and ECPA board chair, offered the opening prayer for the webcast, composed by noted educator and writer, Howard Thurman, author of the seminal book, Jesus and the Disinherited (Beacon Press).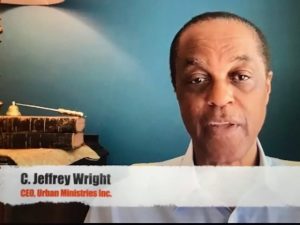 Jeff Wright, CEO of Urban Ministries, Inc., provided a video with 5 steps to making progress in the area of diversity:
Read history while investing in meaningful recruitment and training;
Listen to employee perspectives and establish a shared vision;
Recruit consultants, employees, and board members who can help move your companies forward in these critical areas;
Establish mentoring initiatives; and
Hold meetings where all views are welcomed and sought out.
Jeff also shared a powerful video on racism by Dr. Robin DiAngelo, author of White Fragility (Beacon Press).
"ECPA will continue to encourage conversations like these, as well as provide valued resources to grow diversity in our industry," said Jantz.
ECPA recently published a list of Christian Books on Racial Justice and is currently compiling, from its members, Christian book lists from Authors of Color in a variety of categories. For more information on the book submission process, contact ECPA.