Christian Book Award® Winners named in 12 categories, plus the 2020 Christian Book of the Year®
Winners announced in live webcast featuring bestselling author STORMIE OMARTIAN, who delivered prayer for industry amidst current pandemic
"DARK CLOUDS, DEEP MERCY" by new author Mark Vroegop is named the 2020 CHRISTIAN BOOK OF THE YEAR® and also wins in New Author category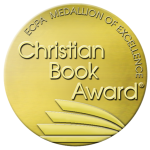 TEMPE, AZ, May 5, 2020 – Today the Evangelical Christian Publishers Association (ECPA) announced the 14 winners of the 2020 Christian Book Awards® in 12 categories – which included a tie in the Bibles category and a double win in the New Author and Christian Book of the Year categories.
Dark Clouds, Deep Mercy: Discovering the Grace of Lament – a book about bringing our sorrow to God through lament by pastor Mark Vroegop – was named the 2020 CHRISTIAN BOOK OF THE YEAR® while also winning in the New Author category.  Published by Crossway, this is Vroegop's first book.
"Mark Vroegop's book was published a year ago, yet its message could not be more relevant to what we are going through today," states ECPA president Stan Jantz.  "It is a deeply moving book about trusting the grace and goodness of God in the midst of sorrow and darkness. As Mark writes, 'lament stands in the gap between pain and promise.'"
The announcements were made this afternoon – for the first time via live webcast – to an audience of more than 350 industry professionals, authors, and publishers.  Traditionally the winners are announced at an awards banquet held during the ECPA Leadership Summit – which was postponed due to the pandemic.
The webcast featured Pinnacle Award recipient and bestselling author of The Power of a Praying® series, STORMIE OMARTIAN.  Known for her books on prayer which have sold more than 40 million, Stormie closed the 30-minute webcast with a Spirit-led prayer for the publishers and authors in our industry greatly affected by the current global pandemic.
"Stormie's prayer was so appropriate for this moment," expresses Jantz.  "She prayed for our industry during these trying times, that we would hear His voice; and that readers would have the desire for the life-transforming message of Christian books beyond what we've ever seen."
Congratulations to the following winning authors and publishers, with deep appreciation for the excellent and life-changing content they have produced:
THE 2020 CHRISTIAN BOOK OF THE YEAR®:
Dark Clouds, Deep Mercy: Discovering the Grace of Lament
by Mark Vroegop, Crossway
"Lament is how you live between the poles of a hard life and trusting God's goodness."
---
AUDIO WINNER:
Palau: A Life on Fire
by Paul J. Pastor, narrated by Cástulo Guerra, produced by Gabe Wicks/ HarperCollins Christian, published by Zondervan
"A deeply spiritual and intimate interview with a man who knows life is drawing to an end, but is only seeing the light grow."
---
BIBLES WINNER (tie):
CSB Ancient Faith Study Bible
by Holman Bible Staff, B&H Publishing Group
"Featuring study notes and commentary from the writings of the church fathers of the second through fifth centuries."
NLT Life Application Study Bible, Third Edition
Tyndale House Publishers
"Helping you understand God's Word better than ever with a fresh two-color interior design and meaningfully updated study notes and features."
---
BIBLE REFERENCE WORKS WINNER:
Introducing Evangelical Theology
by Daniel J. Treier, Baker Academic/ Baker Publishing Group
"A meaty but manageable introduction to the convictions and arguments shaping contemporary evangelical theology."
---
BIBLE STUDY WINNER:
The Logic of God
by Ravi Zacharias, Zondervan
"In his first devotional, apologist Ravi Zacharias offers 52 readings that explain how and why Christianity, the Bible, and God are still relevant, vital, and life-changing for us today."
---
BIOGRAPHY & MEMOIR WINNER:
Devotedly: The Personal Letters and Love Story of Jim and Elisabeth Elliot
by Valerie Elliot Shepard, B&H Publishing Group
"Their only child—daughter Valerie Elliot Shepard—unseals never-before-published letters and private journals that capture in first-person intimacy the attraction, struggle, drama, and devotion that became a most unlikely love story."
---
CHILDRENS WINNER:
Laugh and Learn Bible for Kids
by Phil Vischer, Minno Kids
"Each story is vividly illustrated, takes just five minutes to read, and includes a family connection to encourage family Bible study and help readers learn, talk, and pray together!"
---
CHRISTIAN LIVING WINNER:
Untangling Emotions
by J. Alasdair Groves and Winston T. Smith, Crossway
"How to properly engage with our emotions so we can better understand what they reveal about our hearts and handle them wisely in everyday moments."
---
DEVOTION & GIFT WINNER:
Settle My Soul: 100 Quiet Moments to Meet with Jesus
by Ruth Schwenk and Karen Ehman, Zondervan
"With just a few minutes, you can connect with God, set aside your busyness and worries, center your thoughts on Him and His Word, and restore your peace of mind."
---
FAITH & CULTURE WINNER:
Free to Believe
by Luke Goodrich, Multnomah
"A leading religious freedom attorney, the veteran of several Supreme Court battles, helps people of faith understand religious liberty in our rapidly changing culture."
---
MINISTRY RESOURCES WINNER:
The Care of Souls: Cultivating a Pastor's Heart
by Harold L. Senkbeil, Lexham Press
"A reminder to pastors of the essential calling of the ministry: preaching and living out the Word of God while orienting others in the same direction."
---
NEW AUTHOR WINNER:
Dark Clouds, Deep Mercy: Discovering the Grace of Lament
by Mark Vroegop, Crossway
"Lament is how we bring our sorrow to God—but it is a neglected dimension of the Christian life for many Christians today. We need to recover the practice of honest spiritual struggle that gives us permission to vocalize our pain and wrestle with our sorrow."
---
YOUNG PEOPLE'S LITERATURE WINNER:
Kirby McCook and the Jesus Chronicles
by Stephen Arterburn and M.N. Brotherton, Tyndale House Publishers
"Bible stories laced with middle-grade humor help teach kids that Jesus has been part of the story from the beginning and can be found throughout the Bible, from Genesis through Revelation."
The Christian Book Award winners will be promoted through multiple retail and media outlets including media sponsor Christianity Today and the following retailers: ChristianBook.com, LifeWay.com, Logos Bookstores, Mardel.com, MTL, Parable, NetGalley, Signature Marketing Network, and the Christian Retail Association.
The webcast was designed by Faceout Studio and powered by The knk Group.  The program's distribution services were provided by Ingram | Spring Arbor.
View all the winners and learn more about the program at ChristianBookAwards.com.
###
The Christian Book Award® program has recognized the absolute highest quality in Christian books since 1978. Based on excellence in content, literary quality, design, and impact, the Christian Book Award® program is the oldest and among the most prestigious awards in the religious publishing industry. ChristianBookAwards.com @CBAwards #ChristianBookAwards
The Evangelical Christian Publishers Association (ECPA) is an international non-profit trade organization comprised of member companies that are involved in the publishing and distribution of Christian content worldwide. Since 1974, ECPA has strengthened Christian publishing by building networking, information, and advocacy opportunities within the industry and throughout multiple channels so that our members can more effectively produce and deliver transformational Christian content. For more information about ECPA: info@ecpa.org ECPA.org @ECPA
Media contacts:
Stan Jantz, ECPA President and CEO, sjantz@ecpa.org, 480-966-3998
Cindy Carter, ECPA Awards & Recognition Manager, ccarter@ecpa.org, 480-966-3998