Christian Book Award® Winners announced in 12 categories
"BE THE BRIDGE: PURSUING GOD'S HEART FOR RACIAL RECONCILIATION" by Latasha Morrison is named the 2021 CHRISTIAN BOOK OF THE YEAR®
Winners announced in live webcast featuring bestselling author Max Lucado, recipient of the industry's Pinnacle Award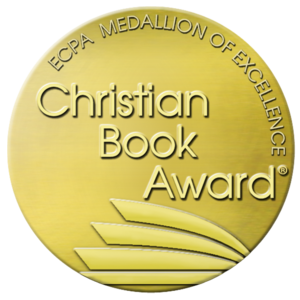 TEMPE, AZ, May 6, 2021 – Today the Evangelical Christian Publishers Association (ECPA) announced the 14 winners of the 2021 Christian Book Awards® in 12 categories – which includes a tie in the Audio category and a double win for Faith & Culture and Christian Book of the Year.
Be the Bridge: Pursuing God's Heart for Racial Reconciliation by Latasha Morrison was named the 2021 CHRISTIAN BOOK OF THE YEAR® while also winning in the Faith & Culture category. Published by WaterBrook, this is Morrison's first book — calling Christians to move toward a deeper understanding of racial reconciliation in the midst of a divisive culture.
Morrison started the Be the Bridge organization in 2016 to encourage racial reconciliation among all ethnicities, to promote racial unity in America, and to equip others to do the same.  Her book was published in October of 2019, and became a New York Times bestseller, an ECPA Bestseller, and winner of Christianity Today's Book Award.
"Congratulations to all the winning authors and their publishers for producing these outstanding titles," said ECPA president Stan Jantz. "In a year of uncertainty and turmoil, readers turned in record numbers to Christian books, like Latasha Morrison's Be the Bridge, that offer practical pathways for healing and a true framework for hope."
The announcements were made this afternoon – for the second time via live webcast – to an audience of more than 400 industry professionals, authors, and publishers. The webcast featured many industry honors and milestones, including the presentation of the Pinnacle Award to bestselling author Max Lucado.  Lucado's books have sold over 130 million, and are distributed in 80 countries and translated into 45 languages worldwide.
Congratulations to the following winners of the 2021 Christian Book Awards:
2021 CHRISTIAN BOOK OF THE YEAR®
Be the Bridge: Pursuing God's Heart for Racial Reconciliation, Latasha Morrison, WaterBrook, 9780525652885
Be the Bridge presents a compelling vision of what it means for every follower of Jesus to become a bridge builder—committed to pursuing justice and racial unity in light of the gospel.
---
AUDIO – Tie
Chasing Vines, written and narrated by Beth Moore, produced by Lisa Smith/ Oasis Audio, published by Tyndale House Publishers, 9781640913714
Beth is convinced from Scripture that every person who knows Jesus is meant to thrive in fruitfulness. Life might not always be fun, but in Christ, it can always be immensely fruitful. Nothing is for nothing. 
Suffer Strong, written and narrated by Katherine and Jay Wolf, produced by Gabe Wicks/ HarperCollins Christian, published by Zondervan, 9780310358190
Is it possible to embrace suffering as a privilege, rather than a punishment? This dynamic couple offers listeners the bold invitation to trust a known God with an unknown future, as well as practical insights into surviving anything by redefining how we think about everything.
---
BIBLES
NIV Study Bible Fully Revised Edition, Zondervan, 9780310448945
Set in Zondervan's exclusive NIV Comfort Print® typeface, this stunning, full-color study Bible answers your pressing questions with just the right amount of information, placed in just the right location. A new committee of top biblical scholars–who are current and former NIV translators with a passion for making the Bible's meaning clear–have pored over every note, every article, every chart, and every essay, producing thousands of newly written or revised notes and articles, combined with hundreds of four-color maps, charts, photos, and illustrations.
---
BIBLE REFERENCE WORKS
The New Testament in its World: An Introduction to the History, Literature and Theology of the First Christians, N.T. Wright and Michael Bird, Zondervan Academic and SPCK (IVP/UK), 9780310499305
Finally: an introduction that captures the excitement of the early Christians, helping today's readers to think like a first-century believer while reading the text responsibly for today.
---
BIBLE STUDY
The Way Home: God's Invitation to New Beginnings, Tessa Afshar, Moody Publishers, 9780802419835
The story of Ruth is a remarkable tale of bravery, calling, and God's provision, and it will come to life in new ways as you dig deep in this 6-week Bible study.
---
BIOGRAPHY & MEMOIR
I've Seen the End of You: A Neurosurgeon's Look at Faith, Doubt, and the Things We Think We Know, W. Lee Warren, MD, WaterBrook, 9780525653219
This gripping inspirational memoir grapples with the tension between faith and science—and between death and hope—as a seasoned neurosurgeon faces insurmountable odds and grief both in the office and at home.
---
CHILDREN
Extraordinary Women of the Bible, Michelle Sloan, illustrated by Summer Macon, SPCK (IVP/UK), 9780281081233
Meet Deborah, the only female judge of Israel; Lydia, successful businesswoman and early Christian; Priscilla, skilled tentmaker and determined missionary, and more!
---
CHRISTIAN LIVING
Show Me Your Glory: Understanding the Majestic Splendor of God, Steven J. Lawson, Ligonier Ministries, 9781642892635
It's the most important question we can ask: Who is God? The wrong answer could spell our doom, but God has clearly revealed Himself and His majesty in His Word. Just as Moses asked the Lord on the summit of Sinai, we can approach God's Word with the ultimate request: "Show me Your glory."
---
DEVOTION & GIFT
How Great Is Our God: 100 Indescribable Devotions About God and Science,  Louie Giglio, Tommy Nelson, 9781400215522
In this science devotional, children will embark on a journey to discover more about God and His incredible creation with amazing scientific facts, beautiful photography, fun illustrations, and simple activities.
---
FAITH & CULTURE
Be the Bridge: Pursuing God's Heart for Racial Reconciliation, Latasha Morrison, WaterBrook, 9780525652885
A leading advocate for racial reconciliation calls Christians to move toward deeper understanding in the midst of a divisive culture.
---
MINISTRY RESOURCES
Lead: 12 Gospel Principles for Leadership in the Church, Paul David Tripp, Crossway, 9781433567636
Tripp argues that lurking behind every pastoral failure is the lack of a strong leadership community and draws on his decades of ministry experience to give churches twelve gospel principles necessary to combat this leadership crisis.
---
NEW AUTHOR
Laughing Through the Ugly Cry…and Finding Unstoppable Joy, Dawn Barton, Thomas Nelson Gift, 9781400217762
In this collection of honest and sometimes raw stories, Dawn throws an arm around readers as she brings them along on her journey through the loss of a child, divorce, cancer, rape, the death of her only sibling, her husband's substance abuse, and finding her way back to Jesus in the middle of it all.
---
YOUNG PEOPLE'S LITERATURE
Praying Girls Devotional, Sheila Walsh, Baker Books/ Baker Publishing Group, 9781540900678
Praying girls are strong girls, brave girls who know that their worth lies in who God says they are, girls who trust Him and know that He always comes through and this devotional helps them develop a strong prayer life.
The Christian Book Award winners will be promoted through multiple retail and media outlets including media sponsor Christianity Today and retail partners including: ChristianBook.com, LifeWay, Logos, Mardel, The Munce Group/MTL, NetGalley, the Signature Marketing Network and the Christian Retail Association.
View all the winners and learn more about the program at ChristianBookAwards.com.
###
The Christian Book Award® program has recognized the absolute highest quality in Christian books since 1978. Based on excellence in content, literary quality, design, and impact, the Christian Book Award® program is the oldest and among the most prestigious awards in the religious publishing industry. ChristianBookAwards.com @CBAwards #ChristianBookAwards
The Evangelical Christian Publishers Association (ECPA) is an international non-profit trade organization comprised of member companies that are involved in the publishing and distribution of Christian content worldwide. Since 1974, ECPA has strengthened Christian publishing by building networking, information, and advocacy opportunities within the industry and throughout multiple channels so that our members can more effectively produce and deliver transformational Christian content. For more information about ECPA: info@ecpa.org ECPA.org @ECPA
Media contacts:
Stan Jantz, ECPA President and CEO, sjantz@ecpa.org, 480-966-3998
Cindy Carter, ECPA Awards & Recognition Manager, ccarter@ecpa.org, 480-966-3998