Chip and Joanna Gaines' The Magnolia Story Hits No. 1 Nationwide
Landing the top spot on The New York Times, this book is no "Fixer Upper"
(Nashville, TN) October 27, 2016—America's favorite home renovators, husband-and-wife team Chip and Joanna Gaines sweep the nation this week, with the No. 1 bestselling book in the country, according to Nielsen BookScan Top Sellers report.  Yesterday, it was announced that "The Magnolia Story", the first book written by the Gaines, alongside "New York Times" bestselling collaborator, Mark Dagostino, will be listed as No. 1 bestselling Hardcover Nonfiction, E-Book Nonfiction, and Combined Print and E-book Nonfiction title on November 6th's  "New York Times" Bestseller List.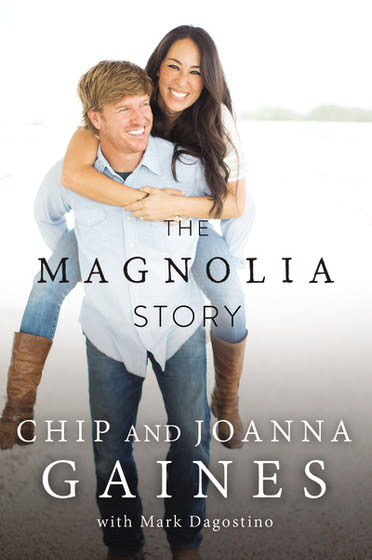 Releasing into the market just 10 days ago, HGTV's "first couple of home improvement" continue to win the hearts of American readers.
From their courtship and their first collaborations to their early successes and the big building project that almost cost them everything, "The Magnolia Story" details how Chip and Joanna's relationship has remained the constant through it all. Fans of the HGTV show, "Fixer Upper" will come to know previously undisclosed details about this dynamic duo and the driving factors that led them to build a multifaceted, nationally recognized Magnolia brand now known and enjoyed by devotees all over the country.
"It is a true privilege to work with Chip and Joanna," commented Matt Baugher, senior v-p and publisher of W Publishing, an imprint of Thomas Nelson.  "They are an inspiration to so many because of their desire to harness joy in everything they do.  This is what people want to see and need to believe in. We anticipate a long and deserving ride for these two fixer-uppers from Waco, TX!"
Since its release, in addition to topping the "New York Times," "The Magnolia Story" has been listed as a nonfiction best seller on "USA Today", Amazon and Barnes and Noble, as well as the number one bestselling audiobook on Audible.
About Thomas Nelson: Thomas Nelson is a world leading publisher and provider of Christian content and has been providing readers with quality inspirational product for more than 200 years. As part of HarperCollins Christian Publishing, Inc., the publishing group provides multiple formats of award-winning Bibles, books, gift books, cookbooks, curriculum and digital content, with distribution of its products in more than 100 countries. Thomas Nelson, is headquartered in Nashville, TN. For additional information visit www.thomasnelson.com.