Champion surfer Bethany Hamilton to release new titles
in conjunction with documentary on her life
New York Times Best-Selling Author Chronicles Inspirational Journey in new books, Be Unstoppable and Unstoppable Me
Grand Rapids, MI – February 28, 2018 – Known most notably as one of the best women surfers in the world, Bethany Hamilton's story is one of the biggest comeback stories of a generation. In 2003, while surfing, she lost her left arm to a 14-foot tiger shark, and her amazing resilience and positive attitude fascinated the world as she returned to surfing, winning national titles and becoming a source of inspiration to millions.
Her raw grit and determination will be highlighted in two new books, releasing from publishing partner Zondervan on June 5, 2018, in conjunction with the upcoming release of her new documentary, Bethany Hamilton: Unstoppable.
In the picture book, Be Unstoppable: The Art of Never Giving Up, (Zondervan, $16.99), Bethany inspires readers to be bold, enjoy life, and take the risk of trusting God each day. Alongside breathtaking, never-before-seen photos from the making of her new documentary, Bethany Hamilton: Unstoppable, the book has inspiring quotes and lessons from her life. With a full-color poster included, this book will resonate with new and old fans who will appreciate her story of living life with anticipation for the limitless possibilities found in a faith in God that is bigger than the hardships she faced.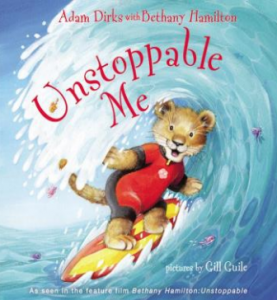 Her new children's board book, Unstoppable Me, (Zonderkidz, $9.99) co-written with her husband Adam Dirks, features a story about a surfing baby lion named Makana who faces her fears to be unstoppable when catching new waves. Adam and Bethany look forward to reading this tale to their son, Tobias, and their soon-to-arrive baby to teach them about the importance of never giving up and believing in yourself. The story is illustrated by Gill Guile.
The release of these books will be supported by a pre-order campaign offering exclusives, social media engagement through Bethany's audience of 4.2 million fans, and a book tour at surf shops and bookstores.
"Bethany's athleticism and story inspire us all to understand how passions can help an individual push through challenges. We are pleased to present her as role model who will inspire readers to be bold, enjoy life and be the best they can be," says Annette Bourland, Senior Vice President and Group Publisher at Zondervan.
In the Be Unstoppable book, Bethany writes, "At times, I have struggled with despair and fear, but my faith in God was greater than my hardships. Having hope in God's promises strengthened me to be brave. Through my personal drive and support of my family, I recommitted to my passion. Even with one arm, and some doubt, I was determined to get in the ocean again and surf. This book shares that passion and I hope inspires you to pursue your heart's desire and stick with it through tough times."
Both books will be available online and in stores on June 5, 2018. Pre-orders begin March 7, 2018.
#BeUnstoppable
#Zondervan
#Zonderkidz
http://www.zondervan.com/be-unstoppable
http://www.zondervan.com/unstoppable-me
For more information on the film:
http://bethanyhamilton.com/unstoppable/
#unstoppablethefilm
Bethany Hamilton:
Twitter: @bethanyhamilton
Instagram: @bethanyhamilton
Facebook: @surferbethanyhamilton
Web: www.bethanyhamilton.com
About the Author:
Bethany Hamilton is a source of inspiration to millions. In 2003, while surfing, she lost her left arm to a 14-foot tiger shark. With resilience and tenacity, Bethany returned to the water a month later, and within two years won her first national title. Her unbelievably positive attitude fascinated the world, resulting in an autobiography that was later adapted into the film Soul Surfer. Her courage and talent led to her induction into the Surfer's Hall of Fame in 2017. Bethany and her husband, Adam Dirks, are also involved in charities such as Friends of Bethany, a foundation she and her family created to support amputees and youth. In addition, Bethany authored Body and Soul to encourage others toward confidence and fitness. Her new documentary Bethany Hamilton: Unstoppable brings her passions together, showcasing her world-class surfing and love for life as well as her message of female empowerment and never giving up.
Zondervan is a world-leading Bible publisher and provider of Christian communications. Zondervan, as part of HarperCollins Christian Publishing, Inc., delivers transformational Christian experiences through its bestselling Bibles, books, curriculum, academic resources and digital products. The Company's products are sold worldwide and translated into nearly 200 languages. Zondervan offices are located in Grand Rapids, MI. For additional information, please visit www.zondervan.com.
Media Contacts:
Mary Beth Googasian, Director of Publicity, MaryBeth.Googasian@harpercollins.com 616-698-3345
Jessica Westra, PR Associate, Jessica.westra@harpercollins.com