Carly Fiorina to release new book on personal growth
and leadership with Tyndale Momentum
Former CEO of Hewlett-Packard and founder of the Unlocking Potential Foundation pens Find Your Way: Unleash Your Power and Highest Potential, available in April 2019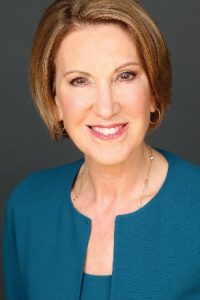 Carol Stream, Ill. (October 29, 2018) — Tyndale Momentum (@tyndalehouse) will publish Carly Fiorina's latest book, Find Your Way: Unleash Your Power and Highest Potential (ISBN: 978-1-4964-3569-9, $25.99, HC), in April 2019. In her book, Fiorina explores how unlocking your highest potential is about discovering a path and the characteristics it takes to solve the problems you encounter. The book's release will include a significant marketing budget as well as a national media tour.
Fiorina's personal success story, starting out as a secretary for a small real-estate business and eventually becoming the first woman ever to lead a Fortune 50 company, uniquely positions her to speak about what it takes to achieve more, make a difference, and build a rewarding life. Her book offers applicable and accessible advice and encouragement for anyone who is trying to make a difference—whether in the home, community, or workplace.
Find Your Way stands out amongst other career advice and self-help books in that it focuses on problem solving as the path forward to achieving your highest potential. Specifically, Fiorina emphasizes finding a meaningful problem that is close to you and working to solve it with humility, empathy, and collaboration.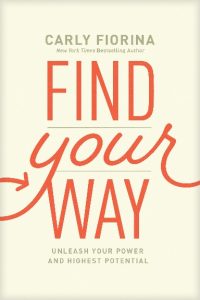 The book also emphasizes key characteristics for true, effective leadership—based on Fiorina's decades of experience in the business and public sector—and teaches individuals how to lead from wherever they are.
Regarding this acquisition, Senior Marketing Manager Kristen Magnesen said, "We're so excited to be partnering with Carly Fiorina on Find Your Way. When I first met her, I found her warm, approachable and full of wisdom—truly embodying her message. Her journey from secretary to CEO is such an inspiration! We know this book will encourage many to rise up and find their greatest potential no matter where they are on their life journey."
Carly Fiorina is the former Chairman and CEO of Hewlett-Packard. Carly is a true leader and a seasoned problem-solver. Her mission is to inspire, equip and connect individuals and teams to seize opportunities, face challenges, and accelerate impact in their communities and organizations. Through Carly Fiorina Enterprises and Unlocking Potential Foundation, Carly and her team strengthen the problem-solving and leadership capacity across America. She is a sought-after speaker and advisor who wants to see people and organizations achieve their highest potential.
Carly Fiorina is represented by Vigliano Associates.
For more information or for media inquiries, please contact Todd Starowitz, toddstarowitz@tyndale.com, or Kristen Schumacher, kristenschumacher@tyndale.com.
Find Your Way by Carly Fiorina
ISBN: 978-1-4964-3569-9
Hardcover: $25.99
April 2019
TyndaleMomentum.com
Tyndale House Publishers, founded in 1962, is one of the largest privately held Christian publishers of books, Bibles, and digital media in the world. Tyndale Momentum, Tyndale's nonfiction imprint, is the publisher of many New York Times bestsellers and is known for integrity in building lasting personal relationships with authors and agents. Tyndale extends the ministry of its authors by contributing most of its profits to the nonprofit Tyndale House Foundation, which makes grants to help meet the physical and spiritual needs of people around the world. Originally founded to publish The Living Bible, a contemporary paraphrase of the Bible that became a global publishing phenomenon, Tyndale now publishes the Holy Bible, New Living Translation (NLT), the translation of choice for millions of people.
Contact: Kristen Schumacher, kristenschumacher@tyndale.com, 630.784.5126