BroadStreet author celebrates 500th episode
of 
Live Hope Minute radio feature
Coincides With Inspirational Daily Devotional
Smeby Releases "Live Hope" Theme Song to Christian Radio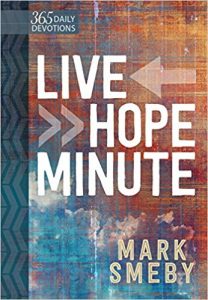 Minneapolis, Minn., Apr 11, 2018 — Reaching the milestone of 500 episodes of his nationally-syndicated daily radio feature, and the release of Live Hope Minute One Year Devotional (BroadStreet), Nashville-based Author/Musician Mark Smeby has chosen to mark the event in a creative way. "With the support of my radio feature by so many Christian radio stations, I decided it was time to create a theme song for those of us who are choosing to express our hope-drenched faith to the world."
The result is "Live Hope," a rally cry for believers to not succumb to hopelessness that surrounds us but to stand up with hope and live out the Gospel message. "As Christians, we have the inside scoop on true hope and where to find it. Yet many people are still waiting for hope to show up in their circumstances, instead of choosing to look at life with hope as the lens—to see life how God sees it. This song gives practical suggestions on how a believer can do this."
To be brave, staring into unknown. To keep on, when it feels like it's over. This is what it means to live hope. To get back up, when you've been knocked down. To reach out, when your past hurts so strong. This is what is means to live hope.
The "Live Hope" single is being serviced to radio by Riley Promotions (rileypromo@gmail.com) and is available to stations through PlayMPe. Smeby has also created a resource page for stations to read complete lyrics, watch videos about the song, and get more information about the Live Hope Minute feature at marksmeby.com/radio. "Live Hope" is also available on iTunes, Spotify, Amazon, and all digital outlets.
Smeby adds, "As I've learned how a hope-saturated gospel message is what allows us to live like Jesus, it has made my Christian walk come alive with greater intimacy and stunning beauty—which is what I've been hoping for all along."
The Live Hope Minute book is available for through livehopenow.com and all major online retailers, with Smeby promoting the book during his live events throughout the year. The Live Hope Minute radio feature is also available as a free mobile application for both Apple and Android devices, in addition to its availability as a podcast through Apple Podcasts and iHeartRadio. To get a free sample of the book, please text LIVE to 54900 (messaging rates may apply). For radio servicing of the Live Hope Minute feature, please contact Bev Singleton at Media Solutions at bsingle419@aol.com.
Mark Smeby is a Nashville-based author/musician/speaker who is all about hope—creating products, resources, and live events all focused around the topic of hope. He travels the country sharing the message of hope through his music and speaking engagements—in a variety of locations from churches, corporations, schools, and prisons. His nationally-syndicated radio feature, the "Live Hope Minute," is heard on 250 outlets throughout the U.S., Canada, and South Africa. Smeby is also a spokesperson for Prison Fellowship International's Children of Prisoners program (pfi.org). He has released seven music CDs including the companion CD project to The Messenger: A Journey Into Hope, his first published book in 2016 (BroadStreet Publishing). He's also acted in co-starring roles for two episodes of ABC/CMT's hit television series Nashville as well as the feature films Because of Grácia, 1 Message, The Perfect Gift, and The Hepburn Girls. More information about Mark and his projects can be found at livehopenow.com, facebook.com/Smeby, or twitter.com/msmeby.
For additional information about BroadStreet Publishing, please visit www.broadstreetpublishing.com.
Live Hope Minute: One Year Devotional
by Mark Smeby
Available from BroadStreet Publishing December 1, 2017
Price: U.S. $14.99   Format: Hardcover
Pages: 384   ISBN-13: 978-1-4245-5567-3
BISAC category: Religion / Spiritual Growth
Review copies, reprint permission and interviews are available.
Contact Jackie Medina, BroadStreet Publishing, 805-889-1439, jackie.medina@broadstreetpublishing.com
For Interviews Contact: Jackie Medina  (805) 889-1439  Jackie.medina@broadstreetpublishing.com
For Radio Servicing: James Riley, Riley Promotions  rileypromo@gmail.com