Brazos Press signs best-selling author and activist Shane Claiborne for a book on America's gun violence epidemic
"Beating Guns: A Book for People Who Are Tired of Violence" due out Fall 2018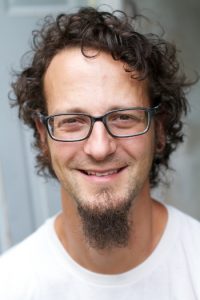 Grand Rapids, MI' June 12, 2017 — Brazos Press, a division of Baker Publishing Group, has signed noted activist Shane Claiborne for a book that offers a Christian response to America's gun violence crisis. Claiborne will coauthor Beating Guns: A Book for People Who Are Tired of Violence with Mike Martin, founder and executive director of RAWtools, a nonprofit organization that repurposes guns into hand tools—taking literally the biblical injunction to beat weapons into plows. The book is expected to release in Fall, 2018.
Claiborne, a bestselling author whose book The Irresistible Revolution sold more than 300,000 copies, and Martin, a Mennonite pastor turned blacksmith, will explore the political, moral, and spiritual dimensions of the crisis in a country where "God and guns" have too often been inseparable. The book will weave together alarming statistics—gun violence claims 30,000 lives a year in the U.S.—and heart-wrenching personal stories of devastated lives and healing through restorative justice. Readers will meet grandmothers, police officers, veterans, and pastors who have taken up hammers and joined the holy work of beating guns into plows and turning a world from violence towards life. Beating Guns will feature full-color photographs of guns turned into tools and musical instruments.
"We are not going to wait on politicians to turn death into life," the authors say. "We cannot wait. The beautiful thing about the vision of the Biblical prophets is that it is the people themselves who start to transform their weapons. It is the people who pave the way to peace."
"We are thrilled to be working with Shane and Mike on this project," says Jim Kinney, Executive Vice President, Baker Publishing Group. "Their simple message of 'Jesus and justice' is transforming lives, and this book will inspire and challenge all Christian readers as they engage this critical issue."
"I've long been a reader and fan of Shane's work, so personally I'm beyond geeked that we will be working with him at Brazos," adds Jeremy Wells, Director of Marketing, Brazos Press. "We think Shane and Mike are a great fit with Brazos's growing profile, and we can't wait to bring their prophetic message on guns to a wide audience."
About the Authors:
Shane Claiborne is a prominent speaker, activist, and best-selling author. Shane worked with Mother Teresa in Calcutta, and founded The Simple Way in Philadelphia. He heads up Red Letter Christians, a movement of folks who are committed to living "as if Jesus meant the things he said." His books include Jesus for President, Executing Grace, Red Letter Revolution, and his classic The Irresistible Revolution. He has been featured in a number of films including "Another World Is Possible" and "Ordinary Radicals." Shane speaks over one hundred times a year, nationally and internationally. His work has appeared in Esquire, SPIN, Christianity Today, and The Wall Street Journal, and he has been on everything from Fox News and Al Jazeera to CNN and NPR. He's given academic lectures at Harvard, Princeton, Liberty, Duke, and Notre Dame.
Mike Martin is the founder and executive director of RAWtools, which partners with communities in an effort to repurpose weapons for creative and productive uses.  A former Mennonite pastor Mike learned to blacksmith in order to turn guns into garden tools and is passionate about connecting people to nonviolent skills like restorative justice and conflict mediation. He is trained for restorative justice facilitation and encourages everyone to explore how they can connect to similar efforts in their community. Mike is licensed for specialized ministry in Mountain States Mennonite Conference of Mennonite Church USA. He blogs at RAWtools.org. Beating Guns will be his first book.
About Brazos Press
Brazos Press publishes books that foster faithful cultural engagement, creatively bringing the riches of our catholic Christian heritage to bear on the complexity and wonder of life. Brazos is animated by a vision of God reaching out to embrace all of humanity with a love as wide and deep as God's creation. Our books inspire faithful interaction with issues of importance to the church and the world.