Bible Society Australia teams with Cameroon Bible Society
to help fund trauma healing for girls and literacy programs
for refugees
It's time… to heal the hurt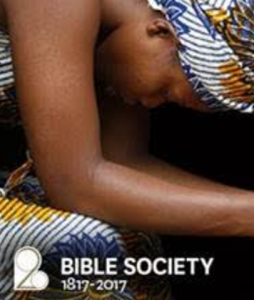 While most Australian girls enjoy a safe upbringing, it's a different story in the central African country of Cameroon.
More than 20 per cent of Cameroon girls between the ages of 15 and 19 have been raped or sexually abused in their lifetime according to UNICEF.
However, the Cameroon Bible Society believes the situation is far worse for many.
Hundreds of young women and their families have been forced to flee from the Boko Haram extremist group in neighbouring Nigeria. They're now refugees in Cameroon.
More than 80 were released by Boko Haram recently, but hundreds remain captive in northern Nigeria. Many of those women have been subjected to rape, forced marriages, beatings and even starvation.
The Bible Society of Cameroon, through Project Esther, is helping to break this cycle using the Bible as a vital healing and education tool.
Bible Society Australia is pleased to partner with our Cameroonian cousins. We want to help these vulnerable young women, and we need your help as well.
Our Cameroon Appeal is a holistic ministry for girls and young women, with a focus on trauma healing. Funds are also being sought for much needed literacy programmes for refugees.
A successful Appeal will help:
Prevent the cycle of abuse repeating itself.
Educate the next generation of Cameroon women and help them towards financial independence.
Heal hundreds of traumatised young women through God's message of healing in the Bible.
Leonie remembers being raped repeatedly as an eight year old by three of her relatives. She says the programme has helped her enormously:
"I didn't know that God could accept me as dirty as I was. But the good news I got was that God accepts us the way we are. I was assured and felt relieved and free from bondage, captivity and trauma. Now I am very happy because of the teachings I received from the Bible."
There are many more similar stories. Our Cameroon Appeal will directly assist upwards of 19-hundred vulnerable young girls in Cameroon, as well as more than 11-hundred refugees.
Bible Society Australia is reaching out to the central African republic through Project Esther. We firmly believe it's time to share these stories and continue the healing in Cameroon.
Chief Operating Officer Melissa Lipsett says "Bible Society is thrilled to see that our mission work is bearing fruit in Cameroon. Hearing that God's Word is giving meaning to the lives of vulnerable young women is tremendously encouraging. But the need is great and there's still much to be done".
To arrange interviews with Bible Society Australia please contact: John Pearson,
Media & Communications Manager, Bible Society Australia, john.pearson@biblesociety.org.au, 0438 771 269
Fast facts:
In 2016, Bible Society Australia assisted 80,000 underprivileged young children to learn to read and write.
Bible Society Australia is currently supporting ten(10) major literacy projects across Africa, the Middle East and Asia.
From a world total of 757 million officially declared non-literates, Africa and south & west Asia are the areas of most literacy need in 2017.
A global literacy strategy was launched in June 2014 to guide the literacy work of all Bible Societies until at least 2019.
The Bible is the world's best-selling and most widely distributed book… approximately 5 billion copies were printed between 1815 and 2016.
In 2016, Bible Societies assisted in the completion of translations in 61 languages spoken by more than 428 million people, including millions of Africans.
Bible Societies, including Bible Society Australia, are currently working on over 400 translation projects around the world.
In China… more than 15 million copies of the Bible were printed in 2016 alone. That figure is tipped to double this year.
Worldwide, the YouVersion bible has been downloaded over 250 million times since its inception in 2008, with users reading and listening to more than 13 billion chapters of the Bible and creating one-billion–plus highlights and bookmarks.
Bible Society Australia shipped more than 215,000 full Bibles in 2016 as well as many new testaments and scripture portions. 
The Bible Society provides scriptures for Australians in more than 100 languages.
Bible Societies worldwide distribute more than 30 million Bibles each year.