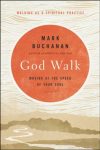 Bible Gateway interviews Mark Buchanan,
author of "God Walk"
What happens when we literally walk out our Christian life? What does our physical being have to do with our spiritual life? What does the Bible actually mean when it exhorts us to walk in the light, or walk by faith, or walk in truth? How did Jesus model walking as spiritual formation? Bible Gateway interviewed Mark Buchanan (@markaldham), author of "God Walk: Moving at the Speed of Your Soul" (Zondervan, 2020).