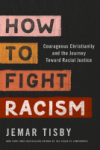 Bible Gateway interviews Jemar Tisby, author of
"How to Fight Racism"
What are biblically practical ways to conquer racism? How should we consistently interrogate our everyday actions to maintain a steady anti-racist posture? In what ways is the Christian faith the ultimate solution to racism as we embrace the implications of what Jesus taught his followers? Bible Gateway interviewed Jemar Tisby (@JemarTisby) about his book, "How to Fight Racism: Courageous Christianity and the Journey Toward Racial Justice" (Zondervan, 2021).