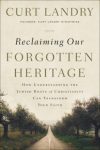 Bible Gateway interviews Curt Landry, author of "Reclaiming Our Forgotten Heritage"
The church was created by Jesus, who was born Jewish. His early followers were both Jewish and Gentile, and the church's early culture was rooted in Judaism and a Jewish understanding of God's relationship to his people. Over time, Christianity became increasingly more Roman than Jewish. How did this transformation affect the church's identity? Bible Gateway interviewed Rabbi Curt Landry (@curtlandrymin) about his book, Reclaiming Our Forgotten Heritage: How Understanding the Jewish Roots of Christianity Can Transform Your Faith (Thomas Nelson, 2019).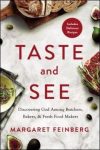 Bible Gateway interviews Margaret Feinberg, author of "Taste and See"
Why did God create food lush in flavor and rich in nutrients? How is food infused with sacred meaning? In our age of fast food and fads, what does it mean to experience foods of the Bible? Bible Gateway interviewed Margaret Feinberg (@mafeinberg) about her book, Taste and See: Discovering God Among Butchers, Bakers, and Fresh Food Makers (Zondervan, 2019).