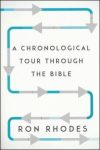 Bible Gateway interviews Dr. Ron Rhodes on "A Chronological Tour Through the Bible"
When you read different books of the Bible, do you get confused about the order of events; for example, how the message of a prophet in one book fits into the timeline of activity recorded in another book? Or when and where the stories of Scripture took place and why it's important to understand these details? Bible Gateway interviewed Dr. Ron Rhodes, (@roncrhodes) about his book, A Chronological Tour Through the Bible (Harvest House Publishers, 2018).

Bible Gateway interviews Margaret Feinberg, author of "Taste and See"
Author and speaker Margaret Feinberg believes the Bible is meant to be more than read—it's meant to be tasted and savored and explored with holy chutzpah. She recently went on an extraordinary biblical quest to explore six different foods in the Bible. The result is a scrumptious 6-session DVD Bible study and book. Bible Gateway interviewed Margaret Feinberg (@mafeinberg) about her DVD Bible study, Taste and See: Discovering God Among Butchers, Bakers, and Fresh Food Makers (Zondervan, 2018).