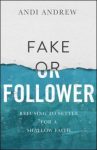 Bible Gateway interviews Andi Andrew, author of "Fake or Follower"
We live in a culture where many identify as "Christian" without fully embracing what it looks like to follow Jesus day-in and day-out. After gathering for worship, do we simply go about our business, void of true transformation? Is the gospel simply a self-help tool; the church just a place where our needs can be met? Are we really following Jesus? Bible Gateway interviewed Andi Andrew (@andiandrew) about her book, Fake or Follower: Refusing to Settle for a Shallow Faith (Baker Books, 2018).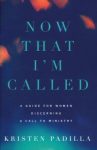 Bible Gateway interviews Kristen Padilla, author of "Now That I'm Called"
What does it mean to be called to ministry? What does the Bible say about men and women in ministry? Who are the examples in the Bible of being called to ministry? What are the practical tools to help you pursue God's call for your life? Bible Gateway interviewed Kristen Padilla (@kristenpadilla) about her book, Now That I'm Called: A Guide for Women Discerning a Call to Ministry (Zondervan, 2018).