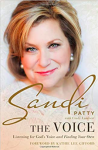 Bible Gateway interviews Sandi Patty, author of "The Voice"
As one who endured sexual abuse as a child, divorce after marital infidelity, and a constant battle with negative self-image, music icon and 5-time Grammy winner and 40-time Dove Award winner Sandi Patty reveals in her new book how she found her voice within the context of God's design for her life and helps others do the same. Bible gateway interviewed Sandi Patty (@SandiPattyP) about her book, "The Voice: Listening for God's Voice and Finding Your Own" (Zondervan, 2018).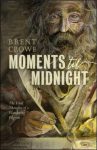 Bible Gateway interviews Brent Crowe, author of "Moments 'til Midnight"
In the biblical letter of 2 Timothy, the apostle Paul reflected on his passing life, saying, "I have fought the good fight, I have finished the race, I have kept the faith." What would it be like to creatively peel back the curtain of Paul's final 12 hours of his time on earth? What could we learn about living life with purpose, redeeming the time, and embracing the mysterious reality that we, too, are on a sacred journey? Bible Gateway interviewed Brent Crowe (@BrentACrowe) about his book, "Moments 'til Midnight: The Final Thoughts of a Wandering Pilgrim" (B&H Books, 2018).