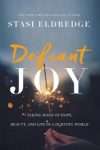 Bible Gateway interviews Stasi Eldredge, author of "Defiant Joy"
When life's circumstances take you on an emotional roller coaster ride, how do you obey the Bible's call to "be joyful always" when it sounds almost crazy—and out of reach? Bible Gateway interviewed Stasi Eldredge (@StasiEldredge) about her book, Defiant Joy: Taking Hold of Hope, Beauty, and Life in a Hurting World (Thomas Nelson, 2018).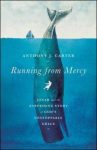 Bible Gateway interviews Anthony Carter, author of "Running from Mercy"
How is the ancient story of Jonah the prophet a microcosm of the human story in the 21st century? How does the prophet's rebellious spirit and his resulting circumstances demonstrate the surprising and unstoppable grace of God? Bible Gateway interviewed Anthony Carter (@eastpc) about his book, Running from Mercy: Jonah and the Surprising Story of God's Unstoppable Grace (B&H Books, 2018).