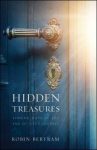 Bible Gateway interviews Robin Bertram, author of "Hidden Treasures"
According to the Centers for Disease Control and Prevention, the number of people facing terminal and long-term illness will increase 80% by 2020. With life-threatening diseases, terminal illness, and the long-term care of elderly parents, come such questions as: If God is good, why are we going through this? What will our family do during this crisis? How do we fight the fear that's trying to consume us? How can we encourage reconciliation in our family? Where can we find peace in the journey? What happens when we die? Is there life after death? What's heaven like? Bible Gateway interviewed Robin Bertram (@robinbertram) about her book, Hidden Treasures: Finding Hope at the End of the Journey (Abingdon Press, 2018).

Bible Gateway interviews Dr. Les Parrott, author of "Love Like That"
What does it mean to truly love people at the highest level in practical ways every day? How do latest findings in sociology and psychology blend with biblical understanding to reveal often counter-intuitive ways of loving like never before? Bible Gateway interviewed Dr. Les Parrott (@LesParrott) about his book, Love Like That: 5 Relationship Secrets from Jesus (Thomas Nelson, 2018).