Bible Gateway interviews Liz Ditty, author of "God's Many Voices"
Does God speak to you? Do you believe God is infinitely closer and more involved in your world than you give him credit for? How does God speak in Scripture and how can you learn to recognize his voice everywhere in daily life? Bible Gateway interviewed Liz Ditty, author of God's Many Voices: Learning How to Listen. Expectant to Hear. (Worthy Publishing, 2018).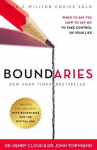 Bible Gateway interviews Dr. John Townsend, "Boundaries" co-author
Christians often focus so much on being loving and giving that they forget their own limits and limitations. Have you ever found yourself wondering: Can I set limits and still be a loving person? How do I answer someone who wants my time, love, energy, or money? Why do I feel guilty when I consider setting boundaries? Bible Gateway interviewed Dr. John Townsend, who, along with Dr. Henry Cloud, wrote the bestselling book, Boundaries: When to Say Yes, How to Say No to Take Control of Your Life  (Zondervan, updated 2017), winner of the Christian Book Award®.